Cheap Thrills at the Checkout
The ins-and-outs of couponing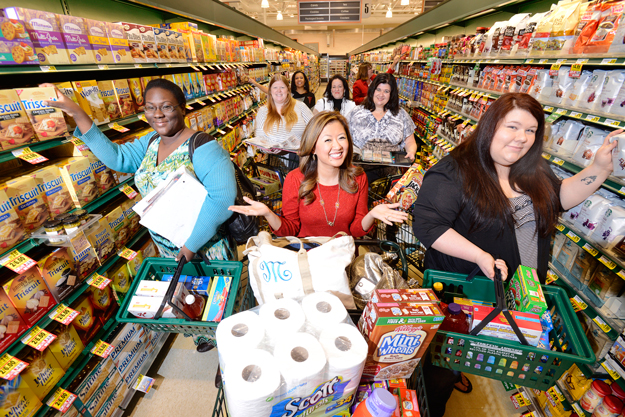 Some couponers can easily clip their way to a zero balance at the checkout counter. And even though there are pros and cons to that level of commitment, few people can walk away from something that's free.
I knew I'd be a good couponer even before I bought a newspaper. An Extreme Couponing marathon on TLC piqued my interest, as it does for most people. Not long after, I found myself overwhelmed with printable coupons on websites like coupons.com.
I want to make it clear. I'm not cheap. In fact, my un-cheapness is likely what got me into a coupon frame of mind. I have always bought what I wanted, when I wanted it, even if that meant a flight to Korea or a Black Friday splurge on a Google TV. I've always made the excuse that tomorrow may not come, so it's funny that nowadays I buy enough toothpaste to last two years.
Taking the plunge
I got a few crazy looks when I made the decision to start a news segment on couponing. That changed when I started buying essential grocery items for $1 or less.
People who gave me crazy looks started asking me to shop for them. Customers stopped me in the aisles to ask about the week's deals. Store clerks started sharing the excitement of my cheap thrills at the checkout.
It didn't happen overnight.
When I first started couponing, I clipped everything and bought anything. I would easily spend an hour or more at the grocery store sifting through all my coupons to find deals as I walked through the aisles. It would take half a Sunday to clip and categorize my stash. Thanks to that kind of delusional dedication, I still have about twenty unwrapped boxes of iced tea bags in my pantry.
Overall, it took about six weeks before I started getting the hang of it. And now, more than a year later, I've got it down pat so that I only spend about a half hour prepping for a shopping trip. It might take an additional fifteen minutes to go buy the items. I don't even really clip coupons anymore because I'll just use a service when something I like is going on sale. Nowadays, it takes minimal effort.
And, now that I know what I know, I can say it's worth the initial drudgery.
No one likes getting taken for a ride. In fact, we're usually embarrassed when our friends call us out for overpaying on clothing, cars, or vacations. We use coupons at Victoria's Secret for free underwear, yet we're too proud to use them to get free milk for our families.
Coupons are the same as cash.
I went from spending $100 a week on food to about $15 or $20. It was absolutely worth the time, and I'm not alone in my thinking.
"I used to work," says Amanda Ferrell, who runs the blog The Frugal Beach Bum. "But as the economy crashed, I did it so our paychecks would go further."
When Mavis Schlichtmann relocated to the area and started a new business that didn't take, her family suddenly had no income.
"It was very upsetting to say the least," Schlichtmann says. "Going to the grocery store was agonizing and depressing.
We did not want to go on public assistance. So, I started couponing, and the rest is wonderful history."
Schlichtmann says she saved at least 75 percent off in groceries last year and now tracks her savings on a website called couponrecord.com.
Fact and fiction
Real couponers denounce most of the methods on that TLC reality show that get people interested in it in the first place. The show often tapes coupon clippers dangerously or illegally diving in dumpsters or stores letting customers buy an unlimited amount of products for near nothing. Those are hardly real-life scenarios, and it gives stores and customers a bad name.
Another falsehood: it's all junk. Admittedly, processed foods are readily available, but that doesn't mean you have to buy them.
"That's just a foolish way of thinking," Mare Zorio says. Zorio runs a Facebook page called I Got It Free with Coupons. "Coupons are available for all kinds of foods."
At the same time, she says she likes getting some junk food for her teenage son and his friends. That ways they can raid her pantry without breaking the bank.
These days, organic foods can often be bought cheaply with coupons, including fresh fruit, milk, and eggs.
Ferrell says she even lost twenty pounds since the start of the year finding deals on organic goods.
Savings … and more savings
Whether you become an expert or remain a novice, any savings is good savings. An average couponer could easily save fifty to eighty percent at the grocery store.
"I know last year I saved $9,000," says Pricilla Harris, who runs the site Cilla Saving in Wilmington and even rounds up a couponing group on Sunday mornings to help shoppers track down the Raleigh newspaper. The big city paper offers more coupons and typically can't be found in Wilmington after 10 a.m.
By the time Delly Mellor and her husband had their second child, they also had $10,000 in credit card debt.
Now, her family of six eats off of $400 a month. Mellor now teaches coupon classes, shares tips on her blog Delly's Deals, and is also a so-called coupon correspondent for Fox Wilmington.
The learning curve can typically take about six weeks to understand coupon policies and etiquette, but most avid couponers will tell you it's well worth the commitment.
"My children inspire me to keep going," Mellor says. "We have almost paid off our debt and haven't charged groceries in over two years."
Michelle Li is an evening anchor for WECT and Fox Wilmington. Her couponing segment runs Thursdays on Fox Wilmington News at 10.
Store photos taken at the Harris Teeter at Hanover Center.
COUPON TIPS NO ONE TELLS YOU ABOUT
Of all tips, I got my best one from a 20-something guy. And, though this one can be slightly controversial, it's really what a lot of couponers do when one of their favorite items is on sale:
* Watch the blogs on Tuesday when the deals are announced.
* When you see an item you like, go online and order coupons from eBay or a clipping service.
* If you order that night, you will likely get the coupons by Friday.
* Go shopping.
Why controversial? Some people think it's cheating in a world of competitive shopping. And some people who sell coupons on eBay might be unethical. You want to make sure you're getting real coupons and not fakes. I personally have never had a bad experience, but you should be aware.
Other hot tips:
* Start out with one store. If you live near a Harris Teeter, go with that. Your next best store is CVS.
* Most of your good coupons come from newspapers. Buy at least two each week, preferably from a big city.
Etiquette tips:
* Do not use fake coupons – that's more than etiquette, it's ethical. Fraud is illegal.
* Do not clear a shelf – leave at least one item behind for the person who really needs it.
* Do not try to do the bulk of your couponing at night when the stores are understaffed.
* Have your coupons clipped before you hit the register.
LOCAL COUPON BLOGGERS TO FOLLOW
Cilla Saving in Wilmington www.cillasavinginwilmington.blogspot.com
Coupon Kitchen www.coupon-kitchen.com
Delly's Deals www.dellysdeals.com
The Frugal Beach Bum www.thefrugalbeachbum.blogspot.com
I Got It Free with Coupons www.facebook.com/MareGioia
Mavis Savers www.mavissavers.com
Smith's Savings www.facebook.com/pages/Smiths-Savings-Dellys-Deals-Consultant
To see some outtakes from our shoot with Michelle, click here.