Chamber Chief
Natalie English on WCOC goals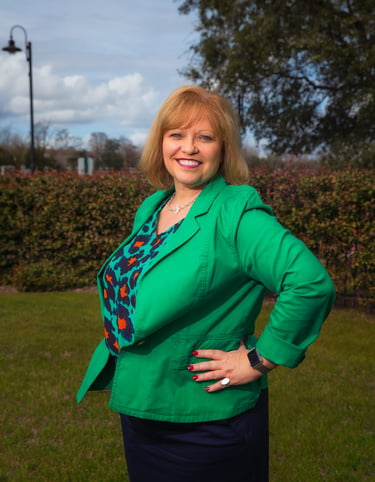 NATALIE ENGLISH confesses that, much of the time, she eats, sleeps, and breathes chamber of commerce matters.
"I believe the work that the chamber of commerce does is my calling. And I'm ready to get to work here," says English, who assumed the position of president and CEO of the Wilmington Chamber of Commerce on March 6.
Officials picked English as part of a national search. She follows Connie Majure-Rhett, who retired from the post last year after serving in the role for more than two decades.
English came to the Port City after spending twenty years at the Charlotte Chamber of Commerce, where she most recently served as chief public policy officer, working to advocate for the business community's priorities at all levels of government.
The efforts of a chamber can go a long way to enhance the business climate, the environment, and the infrastructure of the community it represents, English says, adding that she thinks constantly about ways to increase the chamber's impact.
Asked if the Wilmington and Charlotte chambers are similar, she replies, "People say, 'If you have seen one chamber of commerce, you've seen one chamber of commerce.' But we beg, borrow, and steal ideas from each other. Twenty years' work with the Charlotte chamber has given me a foundation, a familiarity with the culture. (A chamber of commerce) is not about the organization itself. It's about the members we represent. If we're successful, they reinvest in it."
What does English feel are the expectations of her as she leads the chamber?
"The search committee and board of directors want someone with a new set of eyes on opportunities and new energy working with other entities in the community," she says.
That means, for English, that the chamber should always be present and visible in the community and involved in any initiative that affects business in Wilmington.
It was evident to her in the interview process, and in her visits to the city even before starting her new job, that chamber officials wanted their organization to be more of a force in the community.
"Being at the table, ensuring that the chamber is always at the top of the list. That means a lot of meetings," she says with a chuckle.
She and the chamber's board have set several goals for the organization, but she mentions three that she believes matter most to the public.
"The board and I have the desire to grow the investment," she says, explaining that more chamber members means that more local businesses are committing to their community and that translates to more resources the chamber can use to make an impact. "We're at about 870-something now; our goal is to break 900 members in 2017. More members means growth in revenue, plus diversity in the types of businesses represented. We want to have policies and the infrastructure to help all business sectors grow."
A second goal is to raise the visibility of the chamber of commerce as a resource.
"When a person has a question about business, we (want to be) the ones called on," says Natalie English, president and CEO of the Wilmington Chamber of Commerce.
The third goal is to maximize the impact of the economic development marketing initiative related to the Wells Fargo Championship golf tournament in early May. The effort involves Brunswick, Columbus, New Hanover, and Pender counties.
"The stage our community will be on in May is tremendous. We need to help people understand we have so much to offer in this five-county region. (The chamber is) very excited about being able to facilitate this effort. It's helping us be more cohesive as a region, and I see lots of opportunities. The economic development marketing initiative has a longer-term potential of creating … momentum for us."
English is all about momentum.
"This job would not have been attractive to me if they wanted someone to just come in and manage events and take a status quo approach," she says.
She also says she values collaboration and believes her ability to work with others has been a major factor in her success.
In her career, English has benefited from the help of several women who, she explains, "invested in my success."
"There was one in particular who really catapulted me. When I asked her why she had been so helpful, she answered that she was paying it forward and told me she wanted me to 'do for others what I am doing for you.'"
To view more of photographer Chris Brehmer's work, go to www.chrisbrehmerphotography.com.