Chair of the Bored
Armchair Zen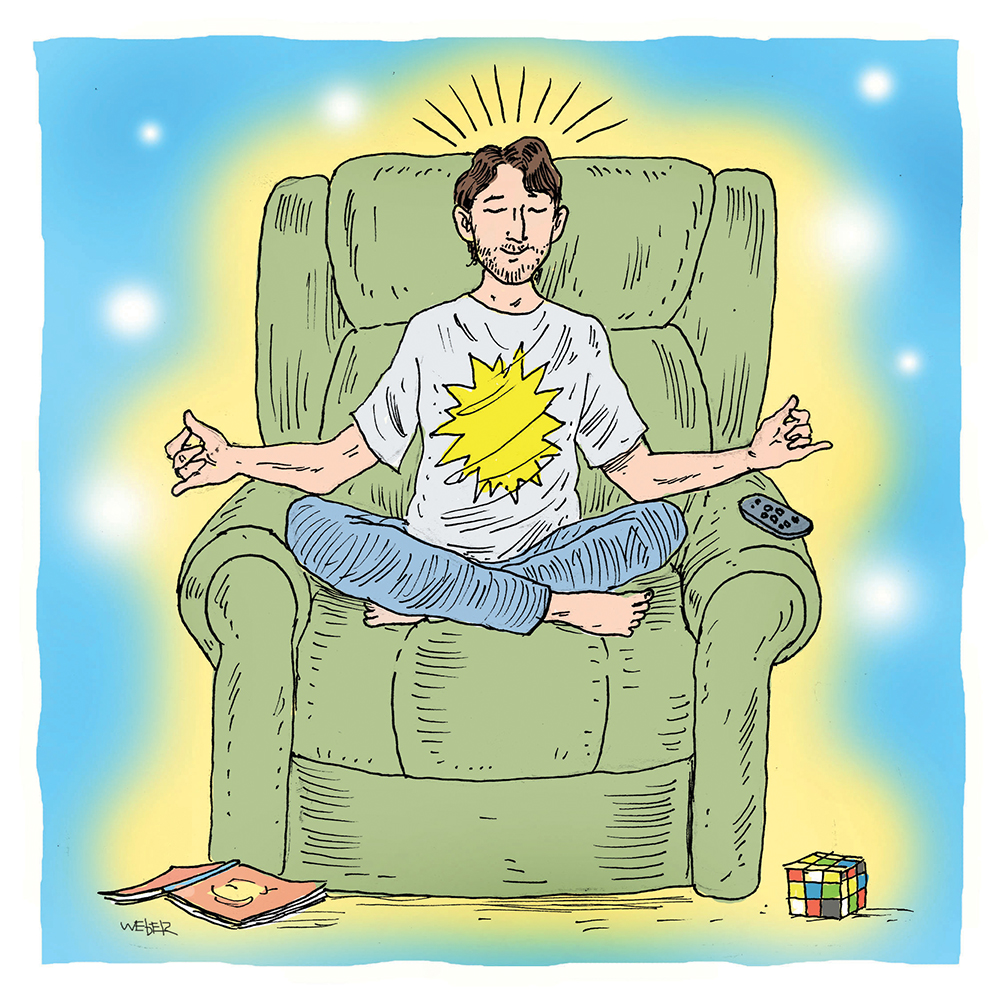 Growing up in the suburbs, the recliner was an essential component of a certain middle-American aesthetic of which I wanted no part. Back then, all recliners were massive, ill-shapen, and upholstered in wool earth-tone plaids capable not only of soaking up the stink of every cigarette within a 3-mile radius but also of camouflaging even the most heinous of stains.
If someone was brutally murdered in a recliner in the early '80s, the chair could still fetch a decent price at a neighborhood yard sale the following weekend.
Never has a piece of furniture been so closely associated with sloth, mediocrity, and mental torpor. Every design effort was made to save the reclined from movement of any kind. Armrests flipped open to reveal handy beverage holders. Side pockets accordioned to store Tiger Beat and People magazines, romance novels, and word search puzzle books for easy access. Some recliners even featured insulated beer coolers for the sports fan who just couldn't be bothered to get vertical when struck with the irresistible urge for another Miller Lite.
Recliners seemed to me then the purgatory one inhabited before unceremoniously dying of boredom. If the recliner was a food, it would be a Hot Pocket. If a recliner was a place, it would be a strip mall in Orlando. If a recliner was an animal, it would be a flatulent hound.
A recliner was found in the living room at a friend's house where his underemployed, mustachioed stepdad impotently fumbled with a Rubik's Cube and at my grandparents' senile next-door neighbors where the husband, a retired pastor, liked to put his feet up while he aimlessly read the good word.
You know who didn't have a recliner back then? James Bond, that's who. Or the Six Million Dollar Man. Or Evel Knievel. Or the guys in KISS.
The recliner was the antithesis of cool, and, as a nerdy kid desperately seeking suaveness, I resolved to never let one cross the threshold of my future home. (The one I had, in sixth grade, already designed and would certainly build one day. The one with the water slide from the bedroom window into the backyard wave pool.)
But, that was before. Before I grew up and bought a house of my own (sans wave pool). Before designers reimagined the recliner, and friends bought a stylish leather number from Scandinavia. Before I gave theirs a try, realized what I was missing, and bought my own hip recliner on Craigslist.
Now, after a long, hectic workday, few things are more satisfying than finally getting to sink into the recliner in my home office.
On a Tuesday night, I'll cook up a four-cheese frozen pizza, cue up a nature documentary on the desktop computer, and let my body settle into the curves and cushions of my recliner's familiarly encompassing embrace.
I've come to appreciate the zen of the recliner. I'm wiser now. I've learned that getting comfy does not equal giving up.
Dylan Patterson is a writer and filmmaker who teaches English at Cape Fear Community College.
To view more of illustrator Mark Weber's work, go to markweberart.blogspot.com.
Want more WILMA? Click here to sign up for our WILMA newsletters and announcements.