Care Giving
Helping families navigate Alzheimer's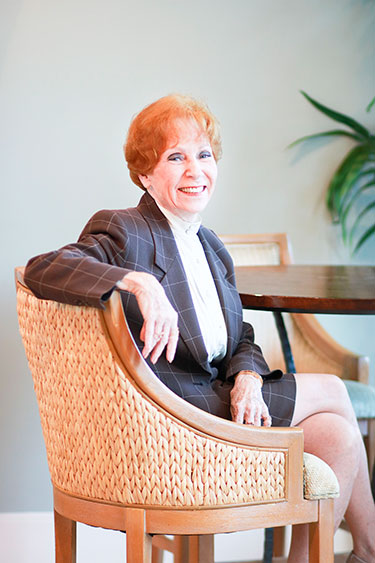 ANN LAREAU has thirty years' experience helping families understand and care for their loved ones who suffer from Alzheimer's disease.
She began as a volunteer at an Alzheimer's unit in Michigan when she served as vice president of community affairs for the Grand Rapids, Michigan, chamber of commerce.
After moving to Wilmington in 1993, LaReau became a certified nursing assistant and certified activity director while working on the fundraising effort to build the Lower Cape Fear Hospice Life Care Center.
She also trained with the North Carolina Alzheimer's Association to provide Alzheimer's care and is a credentialed trainer of caregivers and provider of continuing education classes for professionals in the field.
She served as the Alzheimer's administrator for Home Instead Senior Care for sixteen years until leaving in early 2018 to start Ann LaReau Alzheimer's Consulting LLC. In the course of her long career, LaReau has become a fierce advocate for care that recognizes the dignity and worth of every Alzheimer's patient.
She can hold a listener spellbound as she recounts examples of the solutions she offers families and other caregivers to resolve difficult situations.
Among her tips:
An Alzheimer's patient insists on wearing the same clothes every day? Buy multiples of the favored outfit.
A patient refuses to bathe? You just might have to climb in the shower with her and then turn the experience into a gentle soaping massage.
Is there resistance to a new experience? Tell the patient you need help to accomplish a task and they are the only ones who can provide that help.
Although LaReau takes an upbeat and creative approach to her work with caregivers, she knows how this cruel disease presents itself and progresses.
"Alzheimer's can't be treated or cured. It's terminal. There are three drugs that are effective in slowing the progress of it but only if you start in the extremely early years," she says.
There are seventy-four kinds of dementia, but Alzheimer's is the most common, according to LaReau.
The more that families and friends understand about the disease and how to care for their loved ones who have it, the better quality of life these patients will have.
"You can't bring these people back to reality," she adds, explaining that trying to correct their perceptions can make patients agitated. "The worst thing you can do is to create stress. When a body has excess stress, that kills brain cells. The best treatment is understanding where they are and validating their reality."
That's the objective of the Virtual Dementia Tour, which could be described as an altered-reality experience designed to sensitize caregivers to the mental and physical challenges Alzheimer's patients face. LaReau is one of three people in the Wilmington area certified by the developer, Second Wind Dreams, to present the tour.
Using the Virtual Dementia Tour as a training tool improves caregivers' understanding of the patient's experience. LaReau and others, however, want also to make the world a friendlier and more accepting place when patients are out and about.
As a simple first step, LaReau carries with her an oversize business card that reads, "My friend has Alzheimer's, please be tolerant."
She shows the card to anyone interacting with a client she's accompanying.
A broader effort is to raise awareness among businesses of the needs of those who suffer from Alzheimer's and other forms of dementia.
"We're going to be doing dementia- friendly business (certifications); We already have some dementia-friendly restaurants, where the staff has been trained," says SUZANNE LAFOLLETTE- BLACK, a gerontologist and AARP-NC's associate state director. LaFollette-Black, based in Wilmington, oversees initiatives in Eastern North Carolina, including the push to create a dementia- friendly environment.
"We're also looking at retail: grocery stores, drug stores, clothing retail stores, even ice cream (parlors)," she says. "We're trying to see how we might be able to develop this through our business roundtable coalition. We have developed the curriculum and are ready to start the training."
Once their staffers are trained, business will receive a "Dementia Friendly" sticker they can post on a door or window, and their business will be listed on relevant websites. LaReau is working with AARP-NC on this initiative in the Wilmington area.
While there is no way to prevent Alzheimer's or most forms of dementia, LaReau says a person can enrich the brain as she grows older so there's a bigger "storehouse" of active brain matter, and more neural pathways.
That means the dementia will take longer to steal that knowledge. "Go and do and learn!" she advises.
To view more of photographer Terah Wilson's work, go to terahwilson.com.
Want more WILMA? Click here to sign up for our WILMA newsletters and announcements.