Called Up
Veda Wilson's career has included pitching in near and far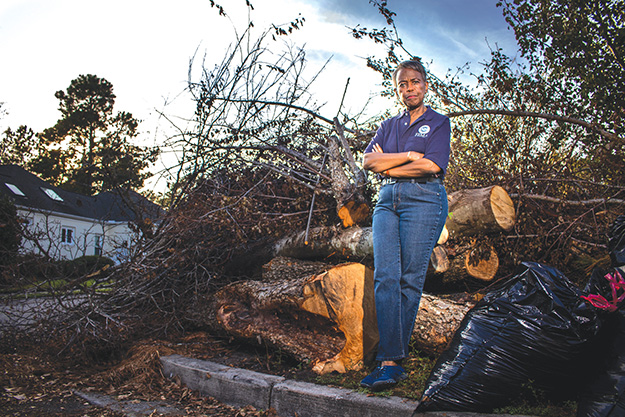 VEDA WILSON is not one to shy away from a challenge or turn down an adventure. She has lived and worked on three continents with the U.S. Information Agency, been cast in a number of films and television shows, and served with the Federal Emergency Management Agency in several disaster areas.
FEMA and film are her retirement careers.
Currently, Wilson is looking forward to the debut of a new TV show she's cast in and serving with FEMA in Durham. She's quick to point out, though, that you won't see her on the front lines of disaster relief.
"What I do for FEMA is not sexy at all," she says. "I'm a researcher/writer in external affairs. What that means is that I spend nearly all my days at a desk writing stories for the media on what FEMA is doing, how much money is flowing out of government coffers, and the like."
Her current assignment has her putting out fact sheets and news releases about Hurricane Florence's impact on North Carolina.
Logging and distributing information hasn't kept Wilson from seeing some natural disasters first hand, however. Her first assignment was as a public information officer, joining the FEMA team eight months after Hurricane Katrina's August 2005 devastation of the Gulf Coast. She spent six weeks based in Jackson, Mississippi, crossing the state multiple times as a FEMA public information officer, talking with media outlets.
"It was exhausting; I covered something like 2,500 miles," she recalls.
After eight months of recovery efforts, evidence of the hurricane's destruction was still everywhere.
"Biloxi was still a mess. The first mile (inland along the Gulf Coast) was ripped apart," she says. "I had not seen that level of devastation until I got to California."
That would be the California wildfires of 2017. Wilson was based in Sacramento for several months and saw how the vast fires reduced whole neighborhoods and landscapes to smoldering rubble.
Between deployments, there are often acting gigs. Finding opportunities in front of the camera was a happy post-retirement accident.
"When I got (to Wilmington in 1999), I discovered they made movies here," she says. "I thought I might be an extra, but got a call one day from one of the agents to ask if I'd be interested in a speaking role in the Divine Secrets of the Ya-Ya Sisterhood. They hired me, and I did it. It was fun, so I turned my attention to doing that: got an agent, started taking classes, and joined the Screen Actors Guild. Every now and then, I get an offer, and off I go."
"Off I go" would be an apt description of Wilson's first career with the USIA, a unit of the U.S. Diplomatic Corps. In all, she served in small cities in Morocco, Nigeria, Niger, and Senegal, as well as in Montreal, Canada; New York City, Washington, D.C., and Brussels. Her career meant that she lived in different cities – often different continents – from her husband, Philip Stine, for many years of their marriage. Stine, an executive with an international nonprofit, led a similarly peripatetic career existence.
Being a work-widow, however, meant that Wilson could explore the possibilities of her job. She was proud to focus on opportunities for women in the places she served, she says. And she has a bulging suitcase of stories.
There was the time, for instance, when her post in Niger was to host an American dance company.
"There was a touring show of American dance. They had tap dancers and cloggers, but also had an Indian tribe of dancers and musicians," Wilson recalls, adding that her post got only the Native American troupe.
Wilson also oversaw the visits to the U.S. of individuals from countries where she served. There could be unforeseen problems, however. Her assistant in Niger was so overwhelmed by all the noise and crowding in New York City that she didn't want to leave her hotel room.
Wilson also arranged a U.S. visit for Niger's permanent secretary of higher education, who was blind. She made sure that he was given a French-speaking assistant for his tour, which terminated in New York City.
"Those wonderful people in New York had a cocktail party in his honor. At this party, he met an eye surgeon who asked him how long he had been blind and what had led to his blindness."
The surgeon took matters into his own hands, literally.
"When (the secretary) returned to Niger he could see," Wilson says. "For the first time, he could see his wife and children. He had assumed he would always be blind. The surgery he had in New York was not available in Niger."
For more about Veda Wilson, read the Take 5 feature in WILMA's November issue. Note: In that Take 5, it is mentioned that Wilson was not working on Hurricane Florence duties, but FEMA has now asked her to help out on news releases about the storm's impact.
Take 5 with Veda Wilson
HOW LONG HAVE YOU WORKED WITH FEMA, AND WHAT WAS YOUR FIRST ASSIGNMENT?
"I first deployed with FEMA in October 2005 to Jackson, Mississippi, following Hurricane Katrina, working as a public information officer. Since then, I've been deployed at least once a year."
WHAT FEMA ASSIGNMENT MADE THE GREATEST IMPRESSION ON YOU?
"Driving through Mississippi and Louisiana after Katrina was eye-opening to what wind and water can do. The Katrina disaster was at the top of my list until the California wildfires of 2017. Every declared disaster is terrible in its own way. I just know when I'm called, it's been a horrific event in someone else's life."
IN HOW MANY CITIES WERE YOU POSTED DURING YOUR YEARS WITH THE U.S. INFORMATION AGENCY? MOST OF THEM WERE IN FRENCH-SPEAKING REGIONS, RIGHT?
"As a foreign service officer I was posted to Rabat, Morocco; Ibadan, Nigeria; Dakar, Senegal; Washington, D.C.; New York City; Montreal, Quebec; … back to D.C.; and then finally to Brussels, Belgium. Most were francophone posts."
DO YOU STILL THINK IN FRENCH?
"Having returned to the anglophone world, I think in French only when I need to speak it, although sometimes I find a foreign phrase more precise than an English/American one."
WHAT'S UP NEXT IN YOUR ACTING CAREER?
"I recently filmed a pilot for a television series that will air on OWN (the Oprah Winfrey Network). And, I'm being considered for another TV role in a different program. Because North Carolina has lost so much film work, I've had to travel to Florida, Georgia, Tennessee, and South Carolina. But, I'll go where I need to if I get the part!"
To view more of photographer River Bondurant's work, go to riverbondurant.myportfolio.com
Want more WILMA? Sign up for our WILMA Weekly email and announcements at WILMAOnTheWeb.com.