Cake Walk
One Belle Bakery's Anna Echols hits her busy season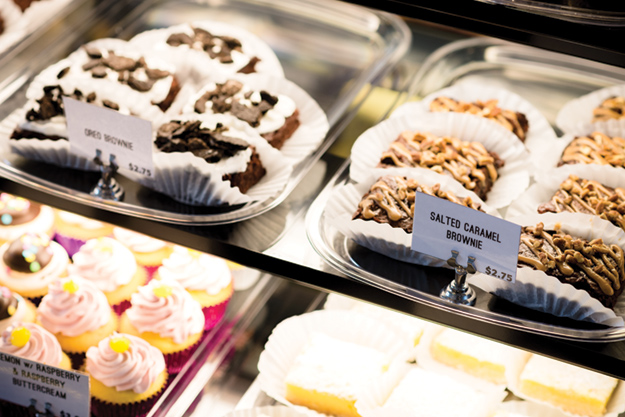 ONE HUNDRED AND TWENTYFIVE POUNDS of flour, sixty pounds of sugar, forty pounds of butter, twenty dozen eggs. This is just a sample of a typical weekly order list for ONE BELLE BAKERY during wedding season.
From mid-March through June, owner ANNA ECHOLS (left) and her staff will create over 200 custom wedding cakes for couples across the Cape Fear region.
Echols, a graduate of Le Cordon Bleu Orlando, received some national attention when she competed on TLC's show Ultimate Cake Off as the show's youngest competitor ever. She returned to her native Wilmington in 2011 and began making cakes for friends and family. Within months, orders were pouring in by word of mouth, and she quickly outgrew her home kitchen. Despite her initial reservations, she decided to lease the very same space where her father, the late Doug Echols, operated Rack N' Roll billiards pub in the late 1980s. Echols says her father always warned her not to go into the restaurant business because of the grueling schedule.
"I told myself this will be a bakery, not a restaurant," says Anna Echols.
Little did she know that it wouldn't be long before some of her days would begin at 3 a.m. and end at midnight. When One Belle first opened in the Cornerstone Shopping Center at 1616 Shipyard Boulevard, Echols envisioned strictly a production kitchen with a small case of carry-out items. She even put up a wall to separate the space into two units, figuring she needed only half the space.
Fast-forward just two years later, and she was out of space again. Having grown from a one-woman operation to a staff of six, she was in desperate need of a larger production area.
Now, following a brief closure for renovations at the start of the year, One Belle Bakery has a much larger kitchen and offers café seating, coffee, and an expanded selection of sweets.
"I knew what I really needed was more kitchen space, but adding a café just made sense," Echols says. "If I was going to expand, I wanted to make the bakery more of a destination than just a place to order cakes."
Decorated in soothing, sophisticated grays and whites, with marble tables and comfy sectional seating, the café invites customers to indulge in a cup of coffee and a sweet.
Also new is a private consultation room for custom orders and tastings. Decorated with photos of Echols' custom wedding cakes and a grand crystal chandelier, it's a space designed to feed the imagination.
Many couples arrive for their consultations with photos in hand after having spent hours viewing cakes on sites like Pinterest. Echols says it's her job to help them take what they love about a cake they've seen online and make it unique to them as a couple.
She says that wedding cakes used to be one of the least interesting parts of a wedding, but these days, couples are opting for cakes with all kinds of themes that are personal to them.
Despite expanding her staff to twelve since reopening in March, Echols says she still has to turn away business when it comes to wedding cakes. She says the demand for them has quadrupled since she opened.
"Wilmington has so many wedding venues that it's attractive to not only brides who grew up here, but also to couples who have no connection to the area but just want to get married by the coast," Echols says.
The time needed to bake, construct, and deliver each cake limits the number of cakes she can commit to producing. Right now, One Belle makes between twelve and sixteen wedding cakes each weekend.
Each cake can be started only a few days before the event to ensure freshness. And with the majority of weddings taking place on Saturdays, Echols says the delivery logistics are the most daunting part of the entire process.
Factors such as traffic, weather, and potential accidents or bridge closures must be taken into account when organizing every delivery. And with so many of those factors out of her staff's control, Echols needs to prepare for the worst while hoping for the best.
An emergency repair kit specifically designed for each cake is taken along on every delivery. It contains everything that could possibly be needed to repair a cake in case it's damaged in transit. It's armed with decorating tools, each buttercream color on the cake, and several secret weapons. Echols says she never leaves without one, even for the simplest cakes.
"I don't think I breathe when I'm delivering," Echols says. "My entire body tightens up, and it's not until every one of them is where it needs to be that I feel myself start to relax. I take a deep breath and then start all over again."
To view more of photographer Erik Maasch's work, visit websta.me/n/emaasch.