Business Bubble
Friends go in on bubble tea spot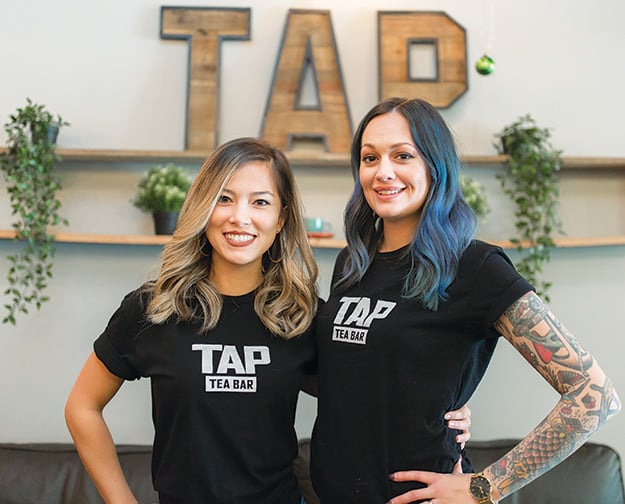 As Wilmington's food scene continues to grow, popular menu trends continue to make their way to the Port City.
When friends KENLEIGH REGISTER LE and ANGELA NGUYEN considered bringing a bubble tea shop to the area, they thought the best way to do it would be to do it together.
"(My husband), Dynh, and I had been talking about opening one for a couple of years," Kenleigh Le says. "We knew that Wilmington had to be ready for something different and more culturally diverse for that of a bubble tea shop to really thrive. At our beginning stages of looking for a location, we discussed with our friends Angie and Danny and realized they had similar plans. So instead of competing, we combined our forces, and a beautiful partnership was born."
Once an ideal location became available in the Racine Commons shopping center, the group decided the wait was over and launched TAP TEA BAR, 250 Racine Drive.
"With our study/hangout lounge, there's no better place than being located next to the university," Nguyen says.
Tap Tea Bar also offers free Wi-Fi, a must for any campus-adjacent location.
What exactly is bubble tea?
"Boba, or bubble tea, is traditionally a dessert drink that originated in Taiwan," Kenleigh Le says. "It is a flavored milk tea with tapioca pearls, or bubbles, at the bottom, hence where it gets its name. It was introduced in the states years ago but typically only in larger cities. Only in the recent years, and with the help of social media, has bubble tea really made its way up on the trending list."
Taking the traditional teas to the next level by adding flavors and toppings gives them texture "and makes it fun," Nguyen says.
She adds that business has taken off since the café opened in October.
"We did better than we projected," she says. "Many people come in who have heard (or) seen bubble tea but never tried it and told us how excited they are to finally try it. We have drinks for tea lovers and non-tea lovers."
Kenleigh Le says that she and her husband had the idea for this type of business on their radar for some time try out.
"Danny and I moved to Wilmington from New York for better opportunities for our business plans … one of them being a bubble teashop," she says. "When we visited Wilmington, we noticed it was a growing city but missing some culture. We wanted to add more variety to this city with something we knew everyone would enjoy."
Customers can have their drinks personalized by picking from different sweetness levels, three kinds of teas, more than twenty flavors, and more than 10 toppings
Tea flavors include strawberry, coconut, frozen coffee, rose black, and chocolate. Tap Tea Bar also offers refreshers and frosteas in a variety of flavors.
Toppings include tapioca, passion fruit jelly, and bursting boba. Though it may sound overwhelming, Kenleigh Le and Nguyen say they can help turn customers into ordering pros.
"Half of our customers come in because they've had bubble tea before and are excited Wilmington has a specified bubble tea spot; the other half is coming in because they are so intrigued and want to try it, and then they all come back multiple times," Kenleigh Le says. "We're a small business, so connecting with our customers on more of a personal level is how we can continue to make our business successful and to grow. We listen to our customers, whether it's via social media or by mouth. We listen and deliver what our consumers want."
The atmosphere that has been created at Tap Tea Bar is inviting to people of all ages as well as their four-legged friends.
"Tap Tea Bar offers not only delicious drink options, from our milk teas to refreshers, but also a chill spot where customers can feel comfortable and have a good time," Kenleigh Le says. "(You can) sit at one of our tables and study or play board games while sitting on a comfy couch under our serene hanging lights.
"We love seeing new faces as well as our regulars," she adds.
To view more of photographer Chris Brehmer's work, visit chrisbrehmerphotography.com.