Burrito, Bowl, Bank
Flaming Amy's Bowl churns up the heat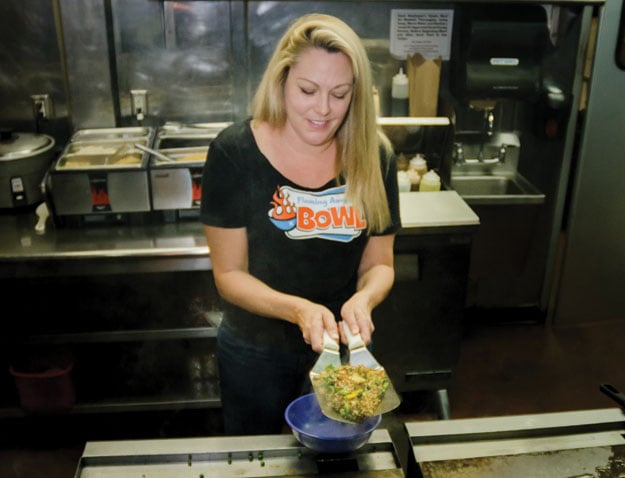 FLAMING AMY'S BURRITO BARN and FLAMING AMY'S BOWL have been cooking up some changes in recent months.
JAY and AMY MUXWORTHY, owners and husband-and-wife team of the local restaurants, aren't afraid to try something new when it comes to their successful businesses. The retro, rock 'n' roll vibe sets their restaurants apart, and the changes just keep coming.
For one thing, the couple shed the food truck, selling it to the mother of a former employee. "We're glad it's still in the Flaming Amy's family," Amy says.
Another big change was the announcement Flaming Amy's Bowl made in the beginning of the year that the Muxworthys were going to begin franchising the concept.
While Amy and Jay are pumped and ready to start, they are realizing that the franchising transition takes time to get rolling.
"It's moving slow and steady," she says. "It's hard because we've been working on getting everything ready now for six months. So we're kind of ready to go, but for everyone else, it is the beginning of the business process.
"It's a bit of a challenge for us to wait and be patient."
On the franchising end, the couple has a friend interested in opening a store in Raleigh, and the Muxworthys would like to eventually open new stores in other North Carolina cities such as Charlotte, Asheville, and Greenville.
The plan is to keep the Bowl in the state to start with.
"It's one of our babies, so we really want to be involved with helping people to get it going," Amy says. "We want to give each business the attention it needs to succeed."
Meanwhile, they announced in late March that a second corporate-owned location of Flaming Amy's Bowl would be opening in the North Chase area of the county.
"The bowl was created with the idea of duplicating it," Amy says. "Unfortunately it didn't happen sooner since it opened just before the economy tanked. We kept it going, and we learned a lot of lessons, and now it is kind of fine-tuned and ready to be duplicated."
Another recent change the couple made was to end their long-running charity with Operation Salsa Drop, a program they started to support the donation of salsa to troops across seas. Instead, the couple plans to sell salsa in-store under the name Local Love as a way to donate to six different local food-based charities.
Amy plans to include the local nonprofit Nourish NC, where she volunteers helping to pack and distribute food packs to children in need and serves as a board member.
"As I became more involved with Nourish NC, the hunger problem became more and more apparent," Amy says. "You don't realize how much of a need is right here in Wilmington until you experience it firsthand."
The couple likes to use the restaurant as a platform to help local charities as much as they can. The story of Flaming Amy's began with Amy working as a teacher and Jay managing a restaurant in Atlanta after wedding in the Outer Banks in 1999.
They followed some friends who were interested in moving to the beach to Wilmington to check out the area in January 2000, and by July of the same year, Flaming Amy's Burrito Barn had opened its doors.
"Jay was a general manager at a similar concept in Atlanta and worked with a guy who had been planning to move to Asheville," Amy says. "We asked if him and his girlfriend would consider moving to Wilmington, and they said 'Yeah, all right.' I look back on it now and am amazed how it all worked out. It was destiny."
Amy worked as a teacher right outside the Washington D.C. area her first year of teaching, a rewarding yet highly challenging experience.
"I cried every day. My mom told me, 'Amy, you need to do something else.'"
She soon realized there was much more inner-city kids needed outside the classroom as well.
"Like working with Nourish NC, it was an eye-opener," Amy says. "It was rough, and I was ready for a change."
Although teaching was emotionally difficult at times, Amy enjoys teaching children to read and continues to volunteer in her son's local elementary school.
"It's just so exciting when they get it," she says, adding that the plan was if the restaurant didn't work out, she'd go back to teaching. She hasn't gone back to teaching since.
A successful business takes a good partnership, and Amy says she is lucky she and Jay complement each other so well. "We each have different talents," she says. "I always tell people that he's responsible for all the food, and I just get my name in lights."
To view more of photographer Erik Maasch's work, go to www.websta.me/n/emaasch.