Building the Freaker Nation
How four local entrepreneurs sparked a movement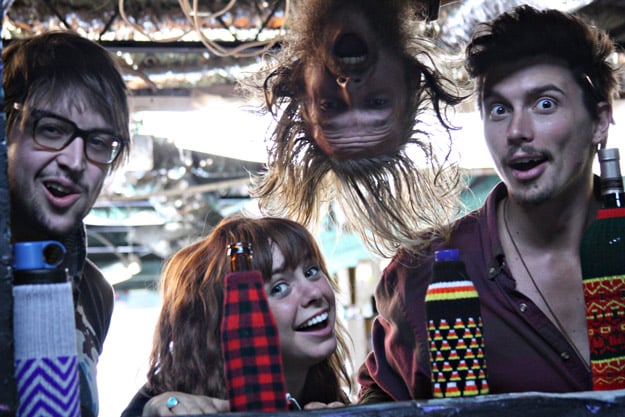 There's a new movement in town. It may have begun as a one-size-fits-anything beverage sweater that's billed to keep your hands dry and your drink cold, but Freaker USA founder, ZAC CRAIN, has created a lifestyle brand that's starting to take hold.
Crain, 26, lived out of his car when he first moved to Wilmington, but he didn't consider it a hardship. He's into having nothing, while looking really good. He's a minimalist when it comes to style, rotating between a few items of hip, form-fitting, secondhand clothing, and there's a Kurt Cobain rule at work in his hair: the less he washes it, the better it looks. These values have bled into the larger appeal of Freaker USA. Rather than selling luxury, like a typical lifestyle brand, Crain's company is selling a youthful, no-money, creative lifestyle. And their followers are eager to support it.
The knit freaker coozies sold on-line and at local boutiques are designed by a creative team here in Wilmington and made in a sock mill in Troy, North Carolina. They retail for $8 a piece and chances are you've already seen them adorning the bottles of hipsters around town. Similar products can be found for sale at retail giant Urban Outfitters, and, as Encore reported in December 2011, are a direct rip-off of Freaker USA's product (legal action is in the works). But Urban Outfitters is unlikely to crib many sales from the Wilmington community, since a coozie made by Freaker USA is not just a coozie, it's a nod of approval to the local, DIY ethic underpinning their business, and to the Freakers themselves.
It's been a fast ascent for the Freaker USA team, who raised more than $60,000 on fundraising website, Kickstarter, this past summer exceeding their goal of $48,000. They also toured the country in a box truck throwing grilled cheese parties and launched their redesigned website to showcase the videos that have become an essential part of their brand. These big moves are the result of the confluence of forces between Crain and social media boss Lauren Krakauskas, creative web designer Justin Mitchener and video producer Oliver Mellan. The team is spending the winter in what Krakauskas calls a "hibernation and scheming portion of the year," testing out new ideas and gearing up for a trade show in Atlanta later this month.
I met with Crain at Freaker headquarters—an old concrete building on Castle Street that he ripped the guts out of and repainted orange, green and teal. I was eager to know what it felt like to have started something that looks like it might get big, but Crain would only stress what he called "the business of not thinking about it." He said, the only advice he would have for people is to grow a beard and make a silly video, which from one angle, looks exactly like what he did. But his way of acting like nothing is happening or that all of this is silly and fun, belies a work ethic that keeps him in the office almost all of the time, often overnight.
Like many small business owners, Crain and the other Freaker USA folks are in the giddy-from-no-sleep phase of busting their butts to stay afloat. Many of the people involved are unpaid, donating time and talent in video production and social events. Even Crain and the three other core Freakers aren't making what most people would consider a living. But, it doesn't feel like a stress box at Freaker headquarters. It feels like a place where people like each other and are having a good time.
Soft music plays from a set of computer speakers in one corner of the office. White cloth covers the overhead fluorescent lights. The tone is set in part by Crain, who is a loving guy and an effusive hugger. He'll hold a hug as long as you will and his eyes will sparkle when you pull away. He says "I love you" early in friendships and he means it.
On the table in the office was a small stack of Polaroids featuring Crain in a bedazzled holiday cardigan and Krakauskas in a fur headpiece holding a hacksaw. Each pack of freakers shipped over the holidays included one such Polaroid and a hand-written love note.
Last fall, the Freakers presented their business plan to the buttoned-up Wilmington business community as part of an entrepreneurship speaker series. The core four literally leap-frogged their way onto the stage at UNCW: climbing, writhing and hopping over each other's bodies, trying not to touch the floor. The entrance was consistent with their brand, announcing their commitment to being as flippant as possible about entrepreneurship, while making a living as entrepreneurs.
The Freakers had set up the stage with a vintage green corduroy couch, a rug, a lamp, the arm of a mannequin wearing a freaker and Pete, Crain's dog, who sat in front of the group like a statue until he fell asleep. They'd brought their own living room to sit in. This way, they could be seen in their own nonchalant context.
"How many freakers did you sell on your tour?" someone from the audience asked. The Freakers exchanged looks that ranged from good-natured and disinterested to seductive and bewildered. Crain's lapel mic had fallen off his partially unbuttoned shirt, so he had clipped it to his beard. "At least four," he said.
The moderator, a middle-aged man in slacks and a collared shirt who sat on stage trading looks of support and derision asked, "What are your earnings before interest tax depreciation?" It was a joke for the other people wearing slacks in the room and it was a good one. There was laughter. But, when he asked the business students in the audience who would be interested in interning at Freaker USA, almost all of them raised their hands.