Builder Chooses Markraft Cabinets For Own Home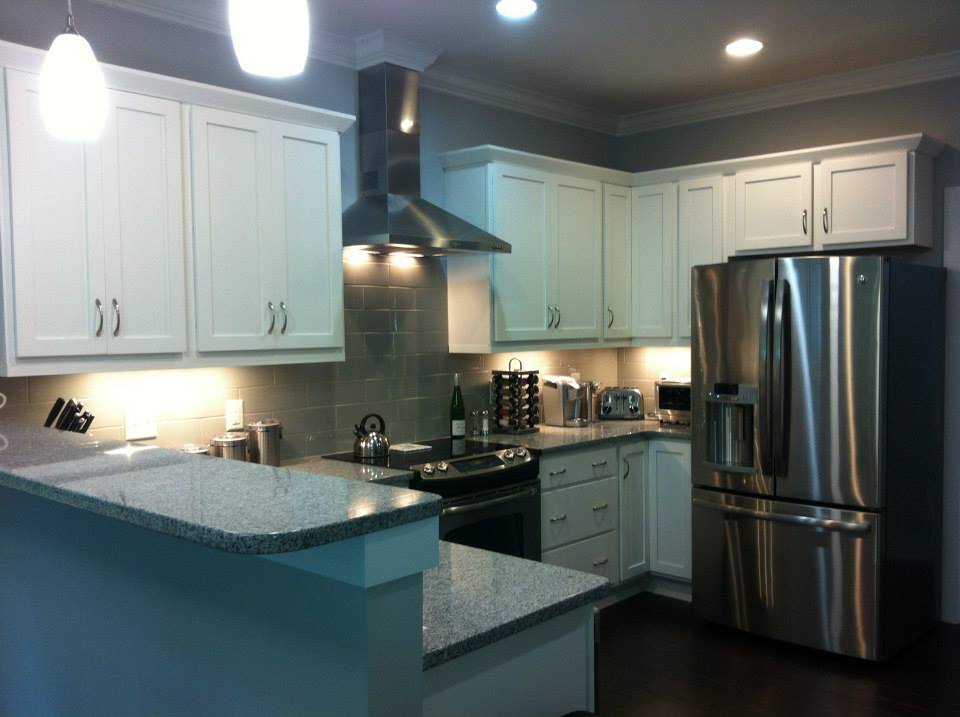 Licensed homebuilder Joe Miller turned to Markraft Cabinets when he built his own home this past year.
"I trust them enough to design my own home," said Miller, who is president of Joe Miller Construction.
A builder friend first recommended Markraft Cabinets to Miller about two years ago and he has been working with the design specialists on kitchen and bath concepts since.
Although the darker hues such as coffee are popular for the spec homes Miller often builds, he and his wife chose an open kitchen concept with a white, contemporary, clean and simple look. Designers at Markraft Cabinets helped them select Westridge Dakota Maple White cabinets and a granite countertop with gray tile backsplash, stainless steel appliances and a simple crown molding for accents. The Miller's also wanted to maximize the available space and chose large, deep cabinets.
Even as a professional homebuilder, Miller acknowledges that building or renovating your kitchen can be a difficult process. That's why he chose to work with Markraft Cabinets.
"I used Markraft in the past for a lot of my new construction homes because of their selection and quality," he said.
His first piece of advice for any homeowner is to decide on a style such as modern, contemporary or classic or even a general look or feel such as simple, eccentric or neutral.
"Once you establish the look, getting a good designer like Markraft can help translate what you want into a design and finished product," he said. "You can have all of these ideas but have no concept of space and how to make a kitchen or bath possible." That's where Markraft Cabinets can help.
Markraft Cabinets installed all of the kitchen cabinets plus the cabinets and marble countertop in the bathrooms and laundry room in the Miller's new home.
"On the customer side from my personal experience, it was good to be able to go to them and get the styles and designs we wanted implemented in the timeframe we wanted," he said.
He and his wife felt they were getting a great product they would have for a long time. They found the Markraft Cabinets staff warm, inviting and always ready to help answer their questions.
On the business side, working with Markraft Cabinets' knowledgeable staff gives him the peace of mind that his clients will receive great products and excellent customer service.
Markraft Cabinets specializes in cabinet and countertop design and installation in both new residential and commercial construction as well as custom remodeling projects. For more information, visit
www.markraft.com
or call (910) 793-2002.