Budget Duds
September Men's Room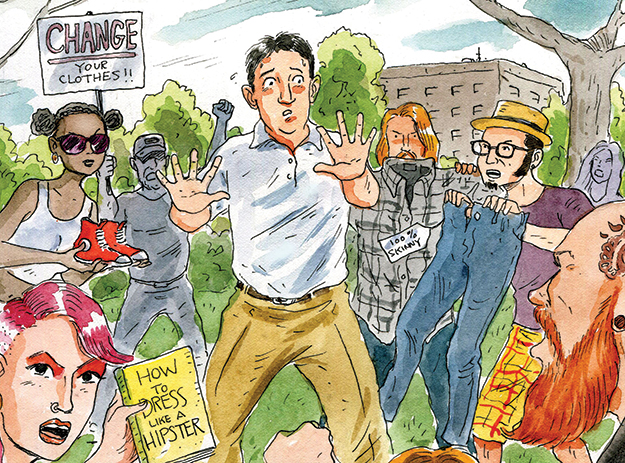 Some of my students once suggested that I get rid of all my clothes. I had no idea they'd noticed anything beyond the grade requirements and attendance policy, but it turned out they had taken stock of my pleated khakis and button-down shirts. And they disapproved.
They told me to burn the clothes. Not while I was wearing them, necessarily, though now that I think about it, they didn't rule it out. To them, my style was boring: predictable and bland.
"What," I asked, "can possibly be boring about beige pants and an off-white shirt?"
They just looked at me. I could feel their judgment creeping all over my beige pants and off-white shirt. I should've punished them with a pop test.
The students didn't tell me what replacement clothes I should get, but, judging by their own appearance, I imagine they would've recommended skinny jeans (black), an untucked plaid shirt (mostly black), a sport coat with sleeves too short (black), and, for rakish rebellion, a pair of Converse Chuck Taylor sneakers (if not red, then black). In other words, something close to the dour hipster look, fastidiously constructed to look oh so unfastidious.
There's not a whisper of a chance that'll happen.
Still, those kids raised the perma-pressing question: What is my style?
The students would say I have none, though I might argue that no style is a style. Kind of. In a way. You know?
Long ago, I gave up buying retail clothes and opted for thrift stores and consignment shops. There, the cast-off and hand-me-down threads from yesterday, yesteryear, and yester-decade (back when people called clothes threads) languish on jammed racks until buyers like me come along: bottom dwellers hunting for ridiculous deals on quality stuff.
Much of it isn't worth even the paltry asking prices. I see shirts adorned with floppy disco collars and dress coats molded from the hair-brained concoctions of the chemical industry. Orlon and alpaca live on in the thrift stores, and you'll always have your pick of relaxed-fit chinos and size XXXL sweats.
A lot of the clothes tell a story: That red sweater vest must be an unwanted Christmas gift. Those plaid nylon slacks say that a golfer has finally given up the game. The royal blue, ultra-suede jacket might mean someone's grandpa has died.
But thrift-store shopping is like playing the lottery, only with realistic odds of winning. I've found enough cashmere sweaters to recover a herd of high-end goats, sport coats that will never go out of style, and corduroy jeans so retro that they're once again current.
All of this has given me a style I'll call haphazard cheap chic. Every day, I climb into my budget duds and just try to wear them well. At my age and with my personality, I have no desire to buy a concocted style. It would only go out of date in short order. And then my next group of students would build a fire and insist that I follow their advice and disrobe on the spot.
Tim Bass is coordinator of UNCW's bachelor of fine arts program in creative writing.
To view more of illustrator Mark Weber's work, go to www.markweberart.blogspot.com.