Britt's Donuts: A Family Business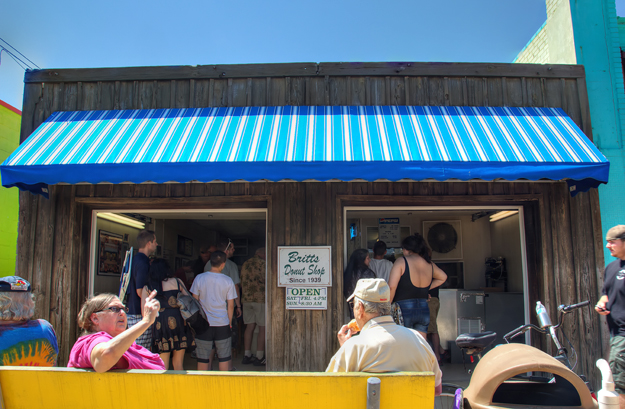 BOBBY and MAXINE NIVENS, owners and managers of BRITT'S DONUTS shop, have taken the simple adage, "if it ain't broke, don't fix it," and made it into a business philosophy. Along with their daughter, Lynn Prusa, in whose hands they hope to pass on the business, and their granddaughters, HALYNN and BOBBY PRUSA, the Nivenses have acted as "guardians" of Britt's doughnuts and its secret doughnut recipe.
Now, in its seventy-fifth year, the shop shows no signs of slowing down.
For the uninitiated, Britt's Donuts has been a landmark on the Carolina Beach boardwalk since 1939, when it was owned by H.L. Britt, for whom Bobby Nivens worked as a teenager in the 1950s.
The doughnuts themselves have long been a staple of summer in Carolina Beach. Light and airy, with a crisp outside and a sweet, hint-of-vanilla glaze, the doughnuts' scent has a way of traveling down the boardwalk. Although, lately, you may hit the line before you hit the smell.
While Bobby and Maxine Nivens have no immediate plans of stepping away from the shop, Lynn Prusa, who recently retired as town clerk for Carolina Beach, aims to become more involved.
Lynn was twelve when her parents first purchased Britt's, and since then, it has been a fixture in her summers. This has been even truer of her daughters, Halynn and Bobby, who have had their summers revolve around the doughnut shop all their lives.
"It's really special to me," Halynn says of the shop. "I remember rolling doughnuts when I was four years old … One day, when (my grandparents) not here, I'll always have that memory."
Frequent visitors to Britt's may have noticed that women are the "face" of the restaurant, running the front of the store as "the boys," as Maxine refers to them, do the work of making the renowned donuts.
This practice was in place under Britt's tenure because of how physically demanding the process of making doughnuts is, and like so much of the business, the Nivenses have stayed true to tradition.
"We still use a lot of the things that Mr. Britt himself used. We still have the same fry pot that we cook our doughnuts in. We (still) have the mixing stands that he had," Maxine says. And Britt's original rolling pin, which was recently retired, currently sits in the Nivenses' home.
Lynn sees the shop's success as a testament, not only to her parent's unerring commitment and hard work – during the summer they work seven days a week, concocting the secret glaze, or "cream," in the off hours – but to the way they treat employees and customers alike as though they were family.
"We have wonderful customers … and we try to make it fun for all the young people that work for us," Maxine says. "They've really become like my children. Most of them have stayed with me through high school and college."
To say Maxine treats her employees like her own children is not an exaggeration. In fact, Lynn says, during the week of July 4th, "because we're so busy that it's hard for (the employees) to get anything to eat, my mother cooks home-cooked meals.
"She'll ask the kids, 'What would you like me to fix?' And they'll tell her what they want. So … in addition to working during our busiest time, she is here at home, preparing meals for about twenty-eight people – with dessert."
Halynn, who is currently studying to be a nurse, looks forward to the time she will become more involved in the doughnut shop. But, like her mother, she doesn't plan on changing a thing about the doughnuts.
"I've heard my father say many times, 'the business runs itself,'" Lynn says. "We're just here as caretakers, but the business really has a life of its own. It's just a feel-good business."
"That would take the fun out of it, if you changed it all up," adds Bobby Prusa, who at fifteen is the youngest of the clan.
"Mr. Britt would not believe how much it's grown," Lynn says. "It was a good business when the Britts owned it, but they've made it, I think, an even bigger, greater success."
All three generations gathered under Maxine's roof are proud of what the shop has meant to the Carolina Beach community and are eager to carry the tradition forward – from the employees who have worked there for decades, to the children who return, now as adults, with children of their own.
"I remember my grandfather taking me in to Britt's Donuts before my parents bought it, when I was about seven or eight years old," Lynn says. "I have the memories that I'm sure our customers now have when they come into the shop: the smell, the taste, the look, the people bagging the doughnuts."
For Lynn and so many others, "Going to the shop is like going home."
SWEET READ: In time for Britt's Donuts' seventy-fifth anniversary, a book detailing the history of the shop and the family behind it was released this year. Britt's Donuts-Forever Sweet is co-written by Halynn Prusa, granddaughter of Britt's longtime owners, and Daniel Ray Norris, head of SlapDash Publishing, which published the book. Info: www.carolinabeach.net
To view more of photographer Terah Wilson's work, go to www.timelessfotographie.com.