Brewing Up
Meet some of the newest beer bosses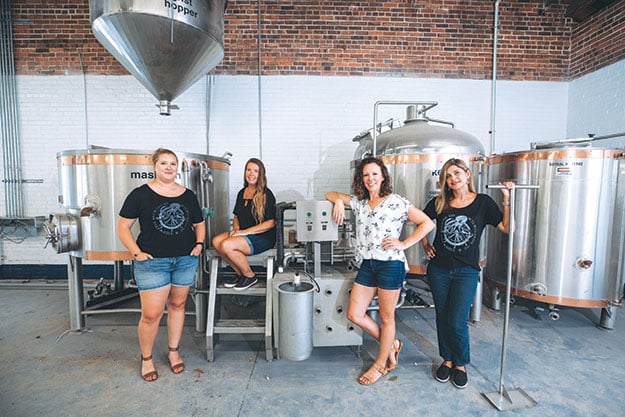 This summer sees even more breweries opening up in Wilmington, a surge that over the past few years has shown no slowing down, despite the plenty of critics who predict that the craft beer brewing industry will tap out soon. A couple of new female brewery owners are betting that cynicism is unfounded.
Beer sommelier Hayley Jensen and her family opened Skytown Beer Company in July on New Centre Drive.
"This whole 'when is the bubble going to burst' when it comes to craft beer, it's been a popular talking point for my entire career," says Jensen, co-owner of Skytown Beer Company. "What I will say is that not a single brewery that has opened in Wilmington has closed. They're all making money, they're all popular, and they're all selling beer. So, I think that's your answer right there."
Jensen and her husband, chef STEPHEN DURLEY, opened SKYTOWN BEER COMPANY this summer at 4712 New Centre Drive.
Jensen, whose parents CAROL and MICHAEL are also co-owners, and Durley have been dreaming of a brewery even before they started Beer Barrio in downtown Wilmington.
"Steven and I became homebrewers in 2010, and our goal was always to approach home brewing as research for going pro one day. When we considered Wilmington, we considered the beer scene here and how much growth potential it had," Jensen says. "Beer Barrio and its success is what allowed us to get the financing for this project. The brewery was always phase two if everything went well."
Skytown, at the newly developed New Centre Commons, also features a large menu of Durley's award-winning barbecue. Jensen says she's most excited about the unique beer recipes Skytown will offer, such as the Pretty Witty, a Belgian- style brewed with rosemary and lemon.
"The impression people get a lot of times is that's he's the brewer, and I'm his wife," says Jensen (above), a beer sommelier. "But actually, it's 100 percent collaborative. My favorite part of brewing is designing the recipes. I've been a professional beer buyer my whole career. I know what people like, and I know what's out there in the market available for purchase. So, what do I wish was there? What do I know would sell that I can't find anywhere else? I like to fill those gaps and come up with things I've never seen before."
A little closer to downtown, the brewery co-op TIDEWATER BREWING COMPANY is also on schedule to open up in August. Tidewater, which has several female owners who sit on the board, has been a heavily anticipated project and a flagship project for the proposed Soda Pop District on Princess Street.
As a co-op, lifetime memberships are $200, and owners retain voting rights, the ability to win a seat on the board, and special customer perks.
In addition to a large commercial brewing operation, the brewery will also have a family- and pet-friendly tasting room with a large, ten-barrel system rotating out different traditional and English ales and lagers, including headbrewer ETHAN HALL 's award-winning Munich-Helles lager.
LYDIA BERZONSKY and CASSANDRA KELLEY, among the group of owners, say they've both found the Wilmington beer community welcoming.
Berzonsky is a brewer, lab technician, and serves as vice president and treasurer. She and Hall most recently helped on the build-out of Ironclad Brewery. Kelley has less brewing experience, but over twenty-five years of business experience and is an owner of Sachem Properties as well.
"We get neighbors that come in and ask what we're doing, and they're really excited about it," Berzonsky says. "People are asking to either be members or staff."
She adds that as a woman, she hasn't really had her authority in the brewing industry questioned.
"I was accepted pretty positively because I have my degree in biology, with microbiology and genetics, so I had a lot of people coming in excited to get my input on the nitty-gritty of quality control and a lot of the biology aspects, like fermentation and propagation, that a lot of people aren't as knowledgeable about," Berzonsky says.
"Not being a brewer, I find it interesting how tight-knit the community is, even though we're all competitors. Everyone wants to help each other out. It's kind of nice to see, given my background in business," Kelley adds.
The two women are both excited that there's talk about opening up a Wilmington chapter of the Pink Boots Society, a nonprofit that supports women in the craft beer industry through scholarships and education.
"Hopefully," Kelley says, "we'll get even more structure to meet and connect with women in craft beer in town."
To view more of photographer Megan Dietz's work, go to megandeitz.com.
Want more WILMA? Sign up for our WILMA Weekly email and announcements at WILMAOnTheWeb.com.