Brewing Business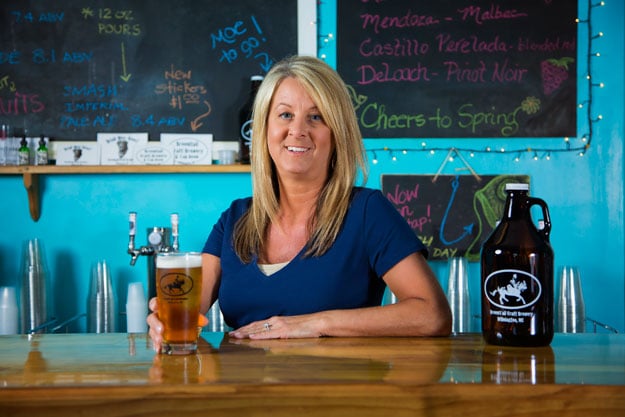 After many years of working as a full-time mother of two and as a stablehand, Lisa Owings opened Broomtail Craft Brewery with her husband, Barry, and her two business partners, Kim and Randy Shelton, in 2014.
"When my daughter was in elementary school, we bought some property, and Barry built a barn in our yard," Lisa says. "So I was taking care of kids and horses."
These two mainstays in the Owings household inspired the brewery's logo: a small black-and-white image of a girl riding a horse. The logo is based on a picture of the couple's daughter, Mallory, which hangs framed in Broomtail's taproom. The brewery's signature brown ale – Moe Beer – is named after their son's dog, Moses.
"So both of our kids are incorporated in the business," Lisa says.
These subtle nods to their children keep them close to home as they both have moved away for college, which became one of the deciding factors for Lisa to start making steps toward opening the brewery.
"We started seriously talking about opening up a brewery about three or four years ago," she says. "And my thought was that when the kids went to college, I would have time to run it, and now here we are."
Riding the wave of popularity for craft breweries, the group opened its nanobrewery at 6404 Amsterdam Way in Dutch Square Industrial Park. Lisa Owings and Kim Shelton are part of a growing number of women getting involved in brewery operations and the brewing process.
Barry Owings and Randy Shelton had been hobby brewing for a number of years with a small, at-home box kit that Shelton had gotten as a Christmas gift. After the Owings' horses were sold, the backyard barn became and impromptu brewery – "a Frankenbrewery," as Lisa affectionately calls the early set up.
The results, however, were far from monstrous.
"Basically our sign was when our neighbors across the street threw a big party, and we brought some of our beer," Lisa says. "Well, our keg kicked first, within an hour of the party, and everyone seemed to like it."
Since opening its doors, Broomtail Craft Brewery has found success, including a menu of over ten original beers and a steady growing number of vendors in town including Buffalo Wilds Wings, Duck & Dive Pub, and manna. The brewery has almost outgrown their location, with possible expansion plans in the future.
"We use every square inch of this property right now, and we're selling everything we're making," Lisa says. "So we could definitely use more space."
For now, however, Lisa wants to keep the location, which she finds ideal for the company's vision and goals.
"There are tons of neighborhoods around us, so we have lots of regulars that walk or ride their bicycles, and we're dog-friendly," she says. "I love that part of this location – it has that neighborhood bar welcoming feel."
While Lisa serves as the face of the business, her husband works in the back, heading up the brewing process. Barry Owings, an industrial water treater by trade, goes as far as stripping the local water down to purified levels and rebuilding individual water profiles for each specific brew.
"Barry and his assistant brewer work in the back, and Kim helps me in the tap room," Lisa says, "so men in the back, and the women up front."
To view more of photographer Chris Brehmer's work, go to www.chrisbrehmerphotography.com