Brain Trust
Panida Piboolnurak focuses on care of patients with movement disorders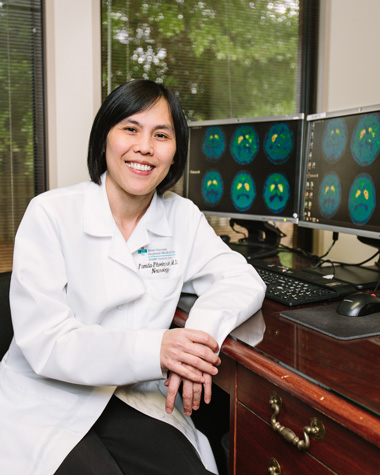 As NHRMC Physician Group's first neurologist specializing in Parkinson's disease and movement disorders, PANIDA PIBOOLNURAK is glad Wilmington-area patients with these conditions no longer need to travel to other parts of the state to received specialized care.
Piboolnurak joined NHRMC Physician Group-Neurology in December.
While Piboolnurak says researchers in her field are likely years away from finding a cure for Parkinson's and other neurological disorders, there are ways to help patients and families.
"Although we cannot find the root cause of Parkinson's or a treatment that could help stop the progression, we have a lot of new technology to help the patient feel better while we look for a cure," she says.
She usually sees about ten to fifteen patients a day, five days a week, as well as completes the necessary paperwork. These patients have a wide range of neurological issues. She advocates for a multidisciplinary team approach to treatment.
Aside from working with her neurology colleagues with specialties such as multiple sclerosis, muscular disorders, and stroke, she believes social workers, physical therapists, and others can help treat the entirety of a patient's needs.
"It's not just medication," says NHRMC neurologist and Parkinson's disease specialist Panida Piboolnurak about the treatment for disorders that many see as "a shaking problem or a walking problem."
In fact, patients with Parkinson's disease and movement disorders can also have anxiety and depression and other issues that are nonmotor symptoms.
Her CV is like a travelogue along a circuitous neurological pathway: She received her medical degree with honors from Chulalongkorn University in Bangkok and later completed an internship in Springfield, Illinois; a residency at Cornell University in New York; and fellowships at Columbia University in New York and the University of Toronto.
Certified by the American Board of Psychiatry and Neurology, Piboolnurak has published in more than a dozen journals that address neurology.
She has studied topics such as brain stimulation for movement disorders, clinical motor physiology of movement disorders and Parkinson's disease, and movement disorders and neurodegenerative diseases.
Her professional experience has been in Thailand, New York, Rhode Island, and – just before moving to Wilmington – Hawaii, where she served as director of the Hawaii Parkinson's Disease, Movement Disorders and Neurodegenerative Diseases Center at Hawaii Pacific Neuroscience in Kailua.
"I'm glad I found a place where I can help serve the community," she says of her move to Wilmington, which wasn't already saturated with specialists in Parkinson's and movement disorders. "Before they (patients and their families) had to drive a few hours to go to Duke or UNC for their needs, and now we can fill that gap."
Piboolnurak says it's important to include family members and caregivers in the care of patients with Parkinson's and other movement disorders. She likes to sit with them all to discuss the patient's disorder and the options for care.
Wilmington's geography played a role in her decision to move to the area.
"I'm driven by the ocean," she says.
She recalls how, when working at Cornell, she took the opportunity on good weather weekends to take the Long Island Rail Road to the beach.
"But I wanted way more than that, so I looked at where else I could practice neurology and be close to the ocean," a move that took her to Rhode Island. After Rhode Island, she went back to Thailand for family reasons and later found another job near the ocean, this time in Hawaii. Affordable housing close to the beach was hard to find, so between her work schedule and the distance to the ocean, she didn't get there often.
The opportunity in Wilmington allows the perfect blend of more reasonable housing near the ocean and the opportunity to make a positive impact on those with neurological disorders. Her parents, after visiting other area beaches selected Wrightsville Beach, live with her.
Asked if she had anything else to say about her life, Piboolnurak replies, "No, my life is so simple."
There are probably a lot of people who would disagree.
To view more of photographer Lindsey A. Miller's work, visit www.lindseyamiller.com.