Braids, Beads, & Age-Old Traditions
W2W Award designer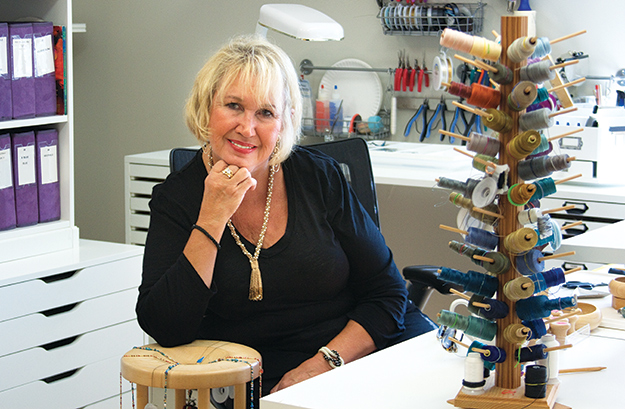 Each year, WILMA selects a local jewelry artist to design a bracelet to serve as the award for the seven Women to Watch Awards winners. The custom pieces, this year crafted by LINDA LAWRENCE NEUSTADT, will be unveiled and given out October 21 at the awards party.
Neustadt would say the creative instinct ran in her blood, and her parents had a hand in molding the artist she is today. Her father, who is one of her biggest infuences, was an architect. When she was a young girl her mother taught her to sew.
"I made my own clothes," Neustadt says. "I was going to go to fashion design school."
But when she found quilting, it ended up launching into a longtime hobby, an obsession, and then a career. It was a good fit because of her knack of combining colors.
She won awards and toured internationally as a quilter. Her style is abstract, and she has made anything from wall hangings to bedding.
Years later it happened – a creative block.
Neustadt found herself at a quilting show on a desperate hunt for new inspiration. She got what she was looking for, only it was a far unsuspecting cry from quilts. She was drawn to a vendor selling Kumihimo kits; in fact, she was instantly infatuated.
"I said I've never seen anything like this before," she recalls.
Kumihimo is a Japanese method of braiding strands of silk to create magnificently designed cords. Though they are beautiful, it was the strength and durability of the cords (also called Kumihimo) that initially made them popular. They were originally made for samurais to use as laces for their armor.
The intricacies of Kumihimo braids made by Japanese masters such as Makiko Tada, who is considered a national treasure, are intricate and impressive, and the color combinations and patterns are endless.
It seems like an unlikely transition – from quilting to the Japanese tradition of Kumihimo, but it came natural to Neustadt. She is still working with fibers, just in a very different way.
Neustadt was immediately enamored with the variety that the technique presented. She was ready to dive deeper.
"I traded all my fabric in for beads," says artist Linda Lawrence Neustadt.
Neustadt says one of her biggest challenges as an artist and independent entrepreneur is appealing to a larger audience because most people have never heard of Kumihimo.
She sells her Kumihimo jewelry on Etsy – her company is called Compliments by Design. Locally, she has sold at Spectrum and currently has pieces at Cameron Art Museum.
Last year, she traveled to Japan where she scratched a new surface in her relationship with the art. She began to develop an appreciation of the Japanese and Kumihimo on a cultural level. She took four days of classes at the Kyoto Institute and even had the chance to learn from the master herself, Makiko Tada.
"I admire (the Japanese) culture so much. They have such a respect for each other and for their work," Neustadt says. "To the Japanese," she adds, "even tying a ribbon can be art."
To view more of photographer Terah Wilson's work, go to timelessfotographie.com