Boxed In
March Men's Room Column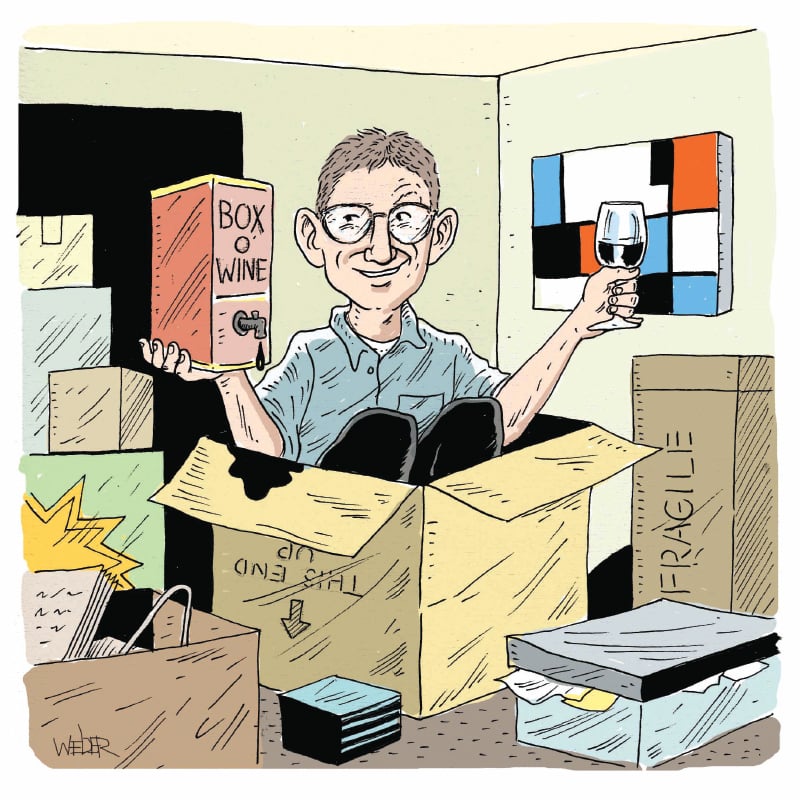 I don't drink, but I still go to the ABC store on occasion. I always stop just inside the front door and ask someone, either a sober-minded counter clerk or a preoccupied customer, where I can find the empty boxes that held all the bottles everyone else is there to buy. The empties are free to anyone who's moving (usually) or shipping (frequently) or reorganizing (infrequently) or wants to pack the attic with more junk in dusty cardboard boxes (constantly). It's one of the state's best recycling programs.
"You have to take twenty," a clerk joked during a recent visit.
He motioned toward a wall of empty boxes, four deep and rising to my shoulders: bourbon, whiskey, scotch, vodka, tequila, gin, rum, cognac, brandy. Whoa. That's a bunch of booze. No wonder I hadn't seen my neighbors all winter. I snagged three (sturdy boxes, not tipsy neighbors) and headed home to pack up some stuff to mail.
In my house, the boxes covered the last rug space that wasn't taken up by other boxes: a box of towels I haven't used, an empty gift box of muffins and scones from the holidays, and three metal boxes holding a thousand photo slides that I needed to send off for scanning – the reason I'd gone to the liquor store for boxes.
Boxes are taking over my life.
In the foyer, two shoeboxes have sat unopened for months, containing either something I want to keep or nothing at all; someday, I'll open them and solve that mystery. They're next to a credenza (a box) holding a stereo (a box) with four speakers (all boxes), and next to them rests a radio (a box) with an extension speaker (a box). I inherited a friend's CDs, dozens of thin, clear boxes piled into an office box that sits behind my computer desk. The computer is a box, too. And, the desk.
Our homes are just big boxes that hold countless little boxes: TVs, refrigerators, armoires, cable modems, wall chargers, nightstands, toasters, ottomans, ovens, box springs, grandfather clocks, washer/ dryers, microwaves, and heating/AC units. My chest of drawers is nothing but a large box that holds a bunch of small boxes.
What isn't a box comes in a box – cereal, popcorn, envelopes, crackers, ice cream, jewelry, Band-Aids, cake mix, raisins, breath mints. I keep them in cabinets, which are just wall-mounted boxes for storing all these boxes. I have an air purifier that's a box full of air – the same air that would be there if the purifier weren't. A doughnut store sells boxes of coffee. Kids guzzle juice from boxes. People drink wine from boxes (though they don't brag about it). My toothpaste comes in a tube, but the tube comes in a box. Our cellphones are merely fragile, over-priced boxes that tell us what to buy, which will then be shipped to us in boxes. My text messages show up on the screen in boxes. All those bottles at the ABC store? They're just boxes without corners.
When we finish with this life, they'll take us out of here in a box.
Eventually, I found the perfect box for my shipment. It was hidden beneath some other boxes. I broke down the unneeded liquor boxes. At the end of the week, the recycling truck came for them. It was a giant rolling box.
Tim Bass is coordinator of UNCW's bachelor of fine arts program in creative writing.
---
To view more of illustrator Mark Weber's work, go to markweberart.blogspot.com.
Want more WILMA? Click here to sign up for WILMA newsletters and announcements.