Boot Camp Blasters
Jump-start your workout routines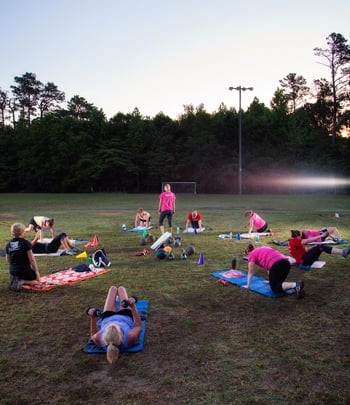 If your traditional workouts have become repetitive, maybe it's time to think outside the box and try one of the many boot camps in the Wilmington area. Each one below offers non-conventional routines that can energize your workout.
PORT CITY ADVENTURE BOOT CAMP
www.portcitybootcamp.com | 777-1912
This four-week program, targeted specifically for women, offers twenty hours of workouts with additional nutritional guidance. Rhonda Schilawski, a certified personal trainer and adventure boot camp instructor, leads the workouts Monday through Friday at 5:30 a.m. at various outdoor locations. Cost is $199.
MONTY MILLER'S BOOT CAMP FITNESS FOR WOMEN
5605 Oleander Drive
www.montysbootcamp.com | 617-2907
Join Monty Miller for a six-week challenge aimed to help Wilmington women become fit and healthy. This boot camp takes place outdoors, with a variety of workouts for any level of experience and health. Participants can get memberships that range from $99 to $199 per month. They also offer a money back guarantee for those not satisfied with results at the end of their boot camp.
WILMINGTON LADY FITNESS
5330 Carolina Beach Road
www.wilmingtonladyfitness.com/boot-camp | 392-3339
Wilmington Lady Fitness' Boot Camp uses high-intensity interval training (HIIT). Before registration, the camp offers a free thirty-minute personal training consultation that determines what type of program is the best fit. A Weight Loss Boot Camp, geared towards those who want to lose 50-100 pounds, is $120 for twelve sessions.
MOMENTUM ATHLETICS & FITNESS
5019 Carolina Beach Road
www.gowithmomentum.com | 470-7766
Momentum Athletics & Fitness offers Boot Camp classes Monday through Friday at 5:30 p.m. and 6:30 p.m., along with Saturday classes at 9 a.m. The sessions focus on all body types, specifically targeting calorie burn. First-time guests can try out classes during a one-week free trial. Customized meal plans are offered to accompany workouts. A month unlimited is $120.
HEADSTRONG ATHLETICS
7042 Market Street, Suite C
www.headstrongathletics.com/group-training | 231-5011
Headstrong Athletics Boot Camps use kettlebells, heavy ropes, suspension trainers, and other non-traditional workout equipment to provide members with a challenging workout routine. Boot Camps take place Monday, Wednesday, and Friday at 6 a.m. and 9:30 a.m., with a Saturday class at 8:30 a.m. Cost is $143 for a month unlimited or $95 for two classes per week.
RELENTLESS BOOT CAMP
5726 Market Street
www.relentlesscamps.com | 599-1055
CrossFit Coastal brings the Wilmington community Relentless Boot Camps. All fitness levels are encouraged to attend and begin training like an athlete. This four-week program also offers participants nutrition workshops alongside the workouts. For $120, boot campers get four classes per week for a month.
To view more of photographer Chris Brehmer's work, go to www.chrisbrehmerphotography.com.