Board History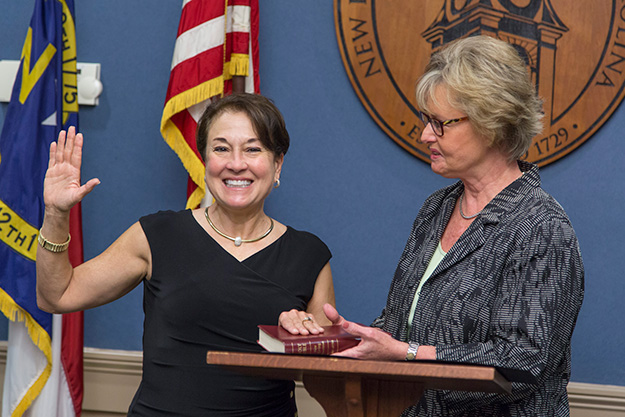 The New Hanover County Alcoholic Beverage Control Board appointed VIVIAN "ZEKE" PARTIN as the first female board member in its 80-year history. In late June Partin swore into office marking the start of her three-year commitment.
This is not the first female-inaugurated position Partin claimed. During her career in state government, she was previously employed as the first female chief financial officer with the North Carolina Department of Transportation.
"I hope other women will step forward and offer their expertise. There is a lot of talent in the area," says Partin, who says she strives to encourage local women to exercise their leadership capabilities.
Now retired, Partin also serves on Wrightsville Beach Planning Board and is president of the Airlie Gardens Foundation board as well as chairwoman of the State Employees' Credit Union local branch board.
As a board member, Partin is responsible for overseeing the agency's operations, establishing stores, and implementing local policies for the eight ABC stores in the New Hanover County area as well as the two other stores specifically for bar and restaurant owners. Along with the other New Hanover County ABC board members, Partin approves contracts and hiring decisions. One imminent hiring approval will be for the chief executive officer position previously filled by Dan Sykes, who recently retired.
Since 1937, the New Hanover County ABC board strictly has followed the uniform system set in place by the General Assembly for controlling and regulating the sale of distilled spirits. Under this system, the board is liable for issuing alcohol permits, implementing liquor administrative codes, choosing product selections, and selecting constant prices to be provided throughout the state.
Accompanying Partin's required duties as a board member, she also supports efforts to strengthen programs and advertising campaigns for educating individuals about the dangers of underage drinking and drunk driving. As she along with other members begin setting budgets for employee salaries and properties, they also will set aside a portion of the profits to strengthen campaigns.