Block Party
South Front and Greenfield's revitalization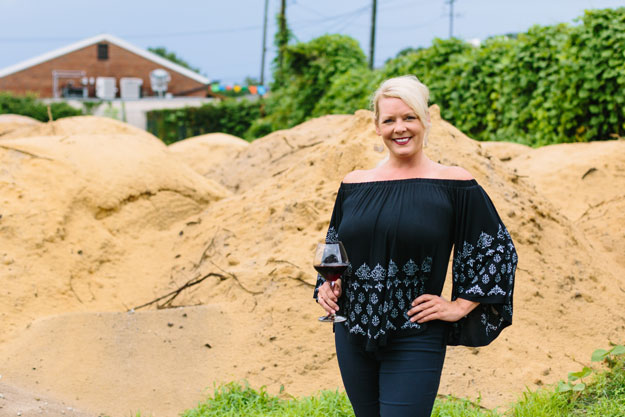 As the South Front redevelopment project continues to expand from the corner of Front and Greenfield streets, meet some of the women working to breathe new life into the industrial buildings to create what might be Wilmington's next new hot spot.
In recent years, an easily overlooked section of Wilmington once filled with bland, industrial buildings has been transforming into something new. The just-outside-of-downtown neighborhood is now home to popular apartments and a favorite beer-and-music venue.
More is on the way, and it's offering a focus on female entrepreneurs.
Kinston-based celebrity chef VIVIAN HOWARD is, along with her husband, bringing a pizza place to South Front. Two local wine-and-food ladies were among the next to commit.
LYDIA CLOPTON, pastry chef at downtown's PinPoint Restaurant, has a bakery/cafe in the works. CELESTE GLASS (above) is planning a new venture similar to her Front Street business, The Fortunate Glass Wine Bar.
"I
think it'll be great to see what will happen at this wonderful warehouse district," says TERRY ESPY (left), president of MoMentum Companies.
The drive to do what she does, which in this case is acting as a broker for South Front, is urban development and reviving community.
"What's happening at South Front is something we've missed in Wilmington," she says.
South Front is revitalizing an industrial hub that will include offices, restaurants, and living spaces. There's also been an effort to create a mix of complementary local businesses. Along those lines, Espy reached out to people who are already adding to the city's vibrant scene.
"There are so many great female entrepreneurs in Wilmington, especially downtown," says real estate broker Terry Espy, president of MoMentum Companies.
If all goes as she thinks it will, South Front will soon be announcing more women-owned business in coming months.
Tribute started buying property in this area in the late 1990s. Since then, the 216-unit South Front Apartments was created from a vacant housing development and Satellite Bar and Lounge at 120 Greenfield Street has become a draw.
Late last year, Howard and her husband, Ben Knight, announced that Benny's Big Time Pizzeria (named for the couple's nicknames) would go into a 3,700-square-foot property at 206 Greenfield Street – part of Tribute's South Front Phase II, a mix of commercial spaces and more residential units.
Howard is known from the PBS series A Chef 's Life about her work at Chef & the Farmer restaurant in Kinston. Espy says that plans are underway for Benny's, even though permitting has taken little a longer than expected.
"Vivian, she doesn't do anything like anyone else," Espy says. "It will have two wood-fired ovens that are glassed in so you can see everything."
Espy says to look for an opening in fall or early winter.
While some people likely became more intrigued after Howard's announcement, others have had their eye on South Front for a while.
"We lived there for two years, and we loved it," Clopton (right) says. "We loved being a part of the community there. We loved Greenfield Lake."
Still, she knows the neighborhood could use a few more places where people can get a bite to eat. Her business will go into the orange house at 1502 South Third Street.
"This was just a perfect fit for me," she says. "I love the idea of having the café in a little house."
Clopton envisions tables as well as couches, along with a breakfast and lunch menu and baked goods such as croissants and seasonal tarts.
"Mostly, I want it to be a community gathering space," she says.
More of South Front will come from updating the former Capps Industrial Supply facility, an 18,000-square-foot building in the neighborhood.
"We're looking at an integrated design, featuring shipping containers and historic features," Espy says.
Near there, on a piece of the property behind Satellite and facing South Second Street, will be The Second Glass. For the past seven years, Glass has been creating a wine-lovers spot at The Fortunate Glass in downtown Wilmington, but she knows there's only so much she can do in the small, forty-seat space there.
Plans for the new restaurant include a larger kitchen and more tables, as well as banquette seating.
"We'll also have a glassed-in, walk-in cooler, which will be a nice visual, and outside seating that wraps around the building," Glass says.
The Second Glass will mirror many aspects of the original, with maybe some of the whimsy toned down – and with more wine, classic cocktails, and a larger tapas menu.
"I'll be able to host more events and wine dinners," Glass says. "I have a lot of talent in my staff. This will allow them to be more creative, too." Both Glass and Clopton hope to open in the spring of 2018.
Espy says that creating the right blend of businesses at South Front could lead to bigger plans for the neighborhood, including maybe street fairs and a trolley that cycles from the neighborhood to Castle Street, the Brooklyn Arts Center, and the Riverfront.
"This really is about breathing new life into this area," Espy says. "It'll be a vibrant historic area done right."
To view more of photographer Lindsey A. Miller's work, go to www.lindseyamiller.com.