Bling It On
Accessories to spice up your spring style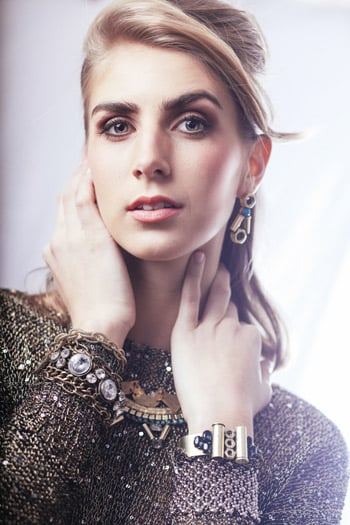 Sometimes your wardrobe needs a pick me up, but you're not sure where to begin. When in doubt, upgrade your look with new accessories. This season, piling on the baubles and donning a statement piece is the easiest way to take your look to the next level. You can save a few bucks with costume jewelry or splurge on the designer pieces.
The Gilded Goddess
Gold SWEATER ($49.99) and gold jeweled BRACELET (left arm) ($29.99), available at Wyoma Road
The Sherry EARRINGS ($66), The Alba NECKLACE by Half United ($140), and The Kimberly BRACELET (right arm) ($84), all by Half United (www.halfunited.com)
Chevron NECKLACE by Anderson Shelton Metals ($45), , Deco Heart BRACELET (left arm) by ViNT ($38), and Liquid Metal by Sergio Guitterez ($79), available at Tickled Pink
The Bohemian
Netted SWEATER ($19.99), white studded BRACELET ($24.99), available at Wyoma Road
Zebra stripe rooster feather EARRINGS by TailFeathers ($252), RING on left hand by Maggie Orli ($162), and hot pink BRACELET by Deb Pyeatt ($74), all provided by Ziabird
Druzy blue RING by Functional Serenity ($12) and boho fringe NECKLACE by ViNT ($65), both available at Tickled Pink
The Twice-Is-Nice
Coral DRESS by M. Rena (price available upon request), available at Lure
Mint julep NECKLACE by ViNT ($85) and chandelier NECKLACE by Unique Chic ($35), both available at Tickled Pink
The Statement
Silk glass NECKLACE by Marie Laure Chamorel ($480), available at Ziabird
MODEL: Kenzie Schmidt
HAIR and MAKEUP: Brandy Alexander of Groove Jet Salon
STYLIST ASSISTANT: Erica Suarez-Pinket
Note: This version corrects where pieces from Half United were found.
To view more of stylist Jessica De Vault's work, go to www.jessicadevault.com
To view more of photographer Ben Minor's work, go to www.benminorphotography.com