Big Beer Boom
Carolina Beach jumps into brewery trend with Good Hops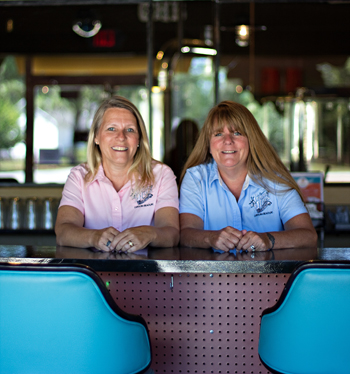 While they were in college all of RICH and PATRICIA JONES' children worked in an Athens, Georgia bar/restaurant owned by Rich and his partners. All except John.
Feeling he had missed out on an excellent experience, John dreamed of opening his own bar/restaurant in Asheville.
"We said, 'No way. It's awful. Go work for someone else and see what you think,'" Patricia recalls. John and the owner of the restaurant he chose started brewing beer in the back – beer that patrons loved. A passion was born, and with it, a family business.
Patricia says her husband had experience brewing beer, so when John asked for help, the couple jumped in. The bar/restaurant dream became a craft brewery dream. Lookout Brewing Co. was one of ten craft brewers in the Asheville region when it opened in Black Mountain. Today, there are twenty-two breweries in the area, Patricia says. They form a strong alliance of friends, brewers, collaborators, and marketers. John's wife is one of two female head brewers in the state, she says.
Fast-forward a couple of years, and Patricia and Rich retire to the coast where their daughter and grandchild are living.
"We love Carolina Beach. We spent every day on the north end," Patricia says.
Meanwhile, the couple was on the phone every day with John trying to get his brewery in the western part of the state going.
"I did all the paperwork, the licensing through the Department of the Treasury," Patricia says.
Opening to great success in 2011 they almost immediately needed more space.
"It's difficult to move a brewery," Patricia says. "We contacted the commission, and they told us we could open up to four breweries. That gave us the opportunity to come back here and still benefit John. We're really a sister brewery to his," she says of GOOD HOPS BREWING, which the family opened in June at the corner of Dow Road and Harper Avenue.
Good Hops navigated the unchartered waters of breweries in Carolina Beach as others trying to open in Wilmington and the county have done.
The venture joins other recent operations that have opened in the area or are proposed such as Check Six Brewing Company in Southport, Wilmington Homebrew Supply, Good Vibes Brew, Flytrap Brewing, and Broomtail Craft Brewery. And there's Front Street Brewery, which opened in downtown Wilmington in the mid-1990s.
"The town of Carolina Beach had some reservations. Only a few people in town hall had ever been to a brewery, but we had people who supported us," Patricia says.
The owners are returning the favor by opening up their space to local organizations.
"We want food trucks to be allowed on Carolina Beach, and we want them all to park in our parking lot," Patricia says.
"I love food trucks, and I love the opportunity it gives young entrepreneurs."
They are also compiling a book of local restaurants that will deliver to Good Hops.
"We want visitors to come to the brewery and enjoy local food," Patricia says. "If you've been on the beach all day, it would be nice to come sit on the back side of the island … and get some good food from some local good restaurants and have some good beer with it. We have tables inside and outside. People can bring a picnic."
The grounds at 811 Harper Avenue will be landscaped with hops and native plants offered by the North Carolina Aquarium at Fort Fisher, including the Venus' flytrap, which grows only in this region.
They've forged an agreement with the aquarium and the Pleasure Island Chamber of Commerce to supply beer for their events and hope to expand that to other businesses and organizations. They'll also offer their filtered processing water to anyone who wants to come fill up their own jugs.
Good Hops' offerings include session beer, a term originating in English pubs, which has a low alcohol content. One of the joys of craft beer, Patricia says, is that you can experiment with anything that meets your fancy.
"I love cucumber beer – never thought I would, but I do," she says.
While Rich does all the brewing in Carolina Beach, Patricia does all the business paperwork. Their financial partners, SHARON LEARY and BILLY GORCZYNSKI, do not drink beer, but they see the brilliance of the venture. After one visit to the Black Mountain brewery, they signed on.
Patricia plans well into the future for events, surprise recipes, and more to distinguish the beer and help put Carolina Beach brewing on the map.
"We knew we were going to be pioneers," she says. "I want to pave the way so breweries and wineries can come to Pleasure Island and Wilmington."
To view more of photographer Terah Wilson, go to timelessfotographie.com.