Best of the Bean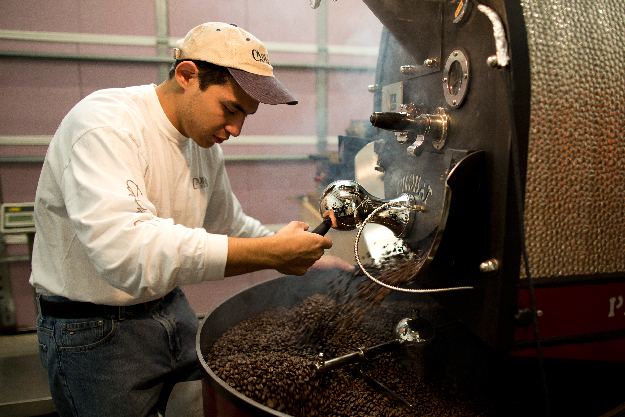 Explaining a love of coffee may be difficult when the temperature and humidity is high. On chilly mornings, though, it makes nothing but sense.
Maybe the damp and gloomy weather of Seattle can justify its reputation as a java-loving city, but what's the reason that Wilmington, where temperatures are pleasant most of the year, is becoming a mini coffee-roasting mecca?
Part of it might be because of the nature of coffee, where freshness and control over the product and process are so important to the outcome – a perfect cup. Anywhere there are coffee lovers, there is at least the potential for local coffee companies.
Many people know that Wilmington is the birthplace of the PORT CITY JAVA coffee shops, which now have 32 locations in North and South Carolina and in the Maryland/ Washington D.C. area. (There are also a few international cafes.) Newer to the scene is LATIVA COFFEE CO. at 2925 Boundry Street in Wilmington, which started offering Colombian coffee roasted in small batches last year. Give them a try at their on-site café or at appearances at local farmers' markets.
FOLKS CAFE at 1201 Princess Street in Wilmington has changed owners since its opening but still has a loyal following. JUAN and TAMMY PACINI continue to roast the beans to order for their menu of coffee drinks and for an ever-expanding list of wholesale customers. Business is going so well that they're considering extra space to broaden the coffee portion.
"Yes, it's something we're thinking about," says Tammy Pacini. "We're looking at locations, adding more machines."
Another local business is the CAROLINA COFFEE CO. (7211 Ogden Business Lane), which STEVE OWENS started with his family ten years ago.
Although you can find these coffees in shops such as The Seasoned Gourmet, the company primarily operates through its online presence and takes pride in the ability to ship beans to customers only days after roasting.
"That's something that's really important to us," he says.
"You don't have to go to a coffee shop to enjoy a great cup of coffee."
Owens worked in the restaurant business before moving to Wilmington and wasn't necessarily interested in opening a café. Still, his love and interest in the intricacies of brewing an excellent cup lead him to Carolina Coffee.
He purchases micro-lots of beans for single source coffee. (A current selection is the Ethiopia Amaro Gayo – "It's one of the best I've tasted," says Owens.)
He also does blends and flavored coffees, which do particularly well around the holidays and with certain customers.
The County Harvest Blend incorporates butterscotch and caramel flavors with real pecan pieces. The popular Carolina Christmas offers up cinnamon, almond, and macaroon with your java. They also devised a special flavor for their son's wedding, with chocolate and vanilla, that is now a part of their regular menu.
Owens' next plan is to house green beans in a climate-controlled setting to further refine his coffee-making process.
The reason for that, and for the importance of knowing your roaster just as you know your farmer or chef, is freshness.
"Those places where you see baskets of coffee beans out in the open? That isn't fresh. Air is not coffee's friend," says Owens.
Local coffee companies that work is small batches with fresh beans mean a better cup.
Other than that, there are a few tips from the pros for brewing the best, says Owens.
"Always grind the beans fresh in the morning. And use good water. Coffee is 98 percent water, after all," he says. "And make sure you get it hot, at least 200 degrees."
To view more of photographer Mark Steelman's work, go to www.marksteelmanphoto.com.