Beneath the Surface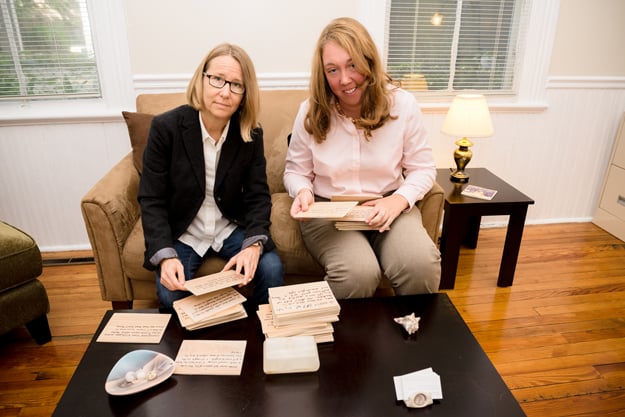 In working on her self-portrait concept, JENNIFER BRIER (right) settled on the words "A girl like you" to express her feelings.
It was phrase she says she encountered during her ten years as a service member, most often a surprised question, as in: "A girl like you is a Marine?"
But it also came up years later as she started opening up about a sexual assault incident that happened early in her career.
"When I started sharing with some of my veteran friends and started talking about it, several of them said, 'I never thought that would happen to a girl like you.' It's that ingrained bias that we have, particularly with sexual assault, like it only happens to certain girls," Brier says.
Brier, now an addiction therapist and integrative health coach with the Veterans Affairs' Wilmington clinic, is one of the participants in INVISIBLE WOUNDS OF WAR, a project started this year for veterans in the state "to explore the psychological, spiritual, and moral injuries of war," according to organizers.
"It was really helpful, particularly the photography," Brier says about the workshops so far. "I think it really even opened up conversation between veterans that participated, that normally wouldn't have happened."
The Wilmington-based project was co-directed by counselor JEN JOHNSON and internal medicine physician KYLE HORTON (both above), WILMA's Women to Watch Awards health category winner this year.
The culmination of the work takes place with several events this month pegged to Veterans Day on November 11.
Veterans such as Brier have met over the past couple of months in free workshops where they wrote about their experiences and worked on self-portrait photographs.
"Putting something into a story helps make order out of chaos, whether we're doing it with written words or pictures," Johnson says. "Sometimes, it's easier to people than talking."
Johnson says helping veterans is something that has been part of her counseling career for years, going back to when she was a counseling intern and worked with a Vietnam vet.
"I still recall his face – this was in 1990 – and I still recall his face and his story. He was just suffering so greatly," she recalls.
That continued when she started doing contract work with the VA in Georgia and interviewed hundreds of veterans to coordinate an independent living needs program.
"The stories of suffering and isolation were so great, it's almost indescribable just what these folks go through when they're in war and what they continue to go through when they return home," she says.
In Wilmington, Johnson crossed paths with Horton, who had previously spent time in Washington, D.C., advocating for a federal veteran suicide prevention bill that passed earlier this year and includes provisions to help vets access more mental health resources.
The chance meeting between the two led to discussions about their overlapping interest in the issue and ultimately to organizing Invisible Wounds of War.
The North Carolina Humanities Council, a statewide nonprofit and affiliate of the National Endowment for the Humanities, awarded the project a $5,000 grant.
The council recognized the project as having potential for a large impact and possibly being a replicable model, Horton says.
The November events include a mix of programs meant to reach veterans, their families, and the public in general about what some of the hidden effects of PTSD and mental health issues for veterans might be.
Johnson leads a free workshop November 7 for veterans and their spouses on mindfulness, an approach to counter depressive symptoms, anxiety, and stress.
On November 13, author Kirsten Holmstedt reads from her upcoming book Soul Survivors: Stories of Wounded Women Warriors and the Battles They Fight Long After They've Left the War Zone.
A lecture series is slated for November 17 that includes Marion Gittings, suicide prevention coordinator at the Wilmington VA clinic and psychotherapist in private practice, talking about suicide prevention strategies.
And Kennita Carter, an integrative medicine physician and acting director of Integrative Health Coordinating Center within the federal VA agency, visits Wilmington for a talk on November 20.
Throughout the month, a collection of the veterans' writings, self-portraits – including Brier's pieces – and wooden plaques with personal messages is on display at University of North Carolina Wilmington's Randall Library exhibit area.
Johnson says they would like to see the project continue in some form after this month's events, such as finding funding for the exhibit to travel to other cities, holding regular groups for participating veterans to write, or gauging training interest that comes out of the lectures.
"We're open to what the strongest needs are," Johnson says.
"Primarily, we wanted to provide a therapeutic experience for the veterans to offer a meaningful experience with them," she says about the project's intent. "We wanted to try to educate the civilian community about what these folks are dealing with when they return."
To view more of photographer Erik Maasch's work, go to websta.me/n/emaasch