Beat of a Different Drum
Bodhrán musician Rachel Tisdale brings Irish tunes alive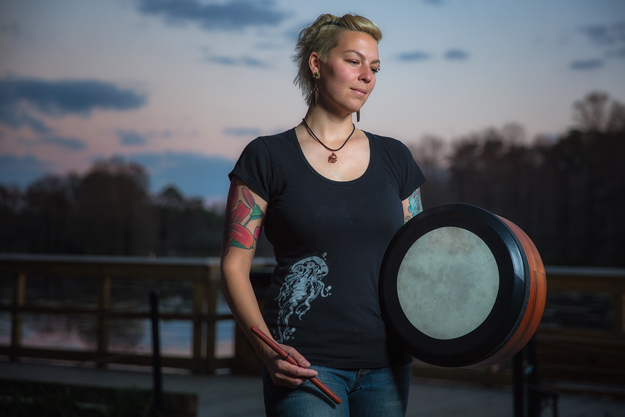 For RACHEL TISDALE, St. Patrick's Day means far more than wearing shamrocks and her favorite green outfit. To celebrate her favorite holiday, by far, Tisdale relishes playing her Irish drum called the bodhrán along with indulging in Irish food and drinks.
Tisdale, who lives in Wilmington, and her band members in The Blarney Brogues plan to bring the Irish spirit to patrons at multiple restaurants and bars around Wilmington on the March 17 holiday and the weekends before and after.
"It's always wonderful to see the crowd getting into the music you're playing," Tisdale says. "It's a heady feeling to see strangers enjoy their evening more because we're entertaining them. Every now and then, we get folks from Ireland or Scotland at shows who request old traditional songs. When we pull out traditional pieces and watch them sing along, dance, or often watch them cry, you feel bigger than life."
Music has always been a part of Tisdale's life. Since elementary school, her parents encouraged her to play an instrument and allowed her to choose what she wanted to play. Tisdale tried out a few instruments.
"I took a few piano lessons as a child, then played flute for several years. In high school, it was guitar and for a short time bass, as well," she says. "I all but abandoned playing music after college, only occasionally picking up the guitar and signing over the next decade."
A few years ago, Tisdale decided to try something different and began singing at medieval festivals. She wanted to find a rhythm instrument to accompany her voice. She settled on the bodhrán, which is a handheld drum often played with a stick. She relied on YouTube lessons to learn how to play.
"The bodhrán is a fascinating instrument. It's only a single drum head, but by placing your hand on the back of the skin and applying different levels of pressure, you can produce a wide variety of tones," Tisdale describes.
Once she felt comfortable with the bodhrán, Tisdale sought out a place to play with others. She found a local Saturday Irish jam session at The Dubliner Irish Pub on Carolina Beach Road, where she began playing and singing.
"The music took hold of me, and I continued playing every available Saturday after," she says. "There's something in the drum that calls to your spirit, I think, especially when you're playing with a community of musicians and friends."
She was soon invited to sit in on a gig with The Blarney Brogues. Despite her stage fright, Tisdale found the guys in the group welcoming and fun to play with. The band kept inviting her back for future gigs, and soon Tisdale became a member of the group. Playing music for others has since become a staple of Tisdale's well-being.
"We mostly play at bars, nothing of a concert setting," she says, "but it's a great feeling when people really get into your music and sing along or dance!"
To view more of photographer Chris Brehmer's work, go to www.chrisbrehmerphotography.com