Beach Escape
Custom details fill Debbie Leonard's home away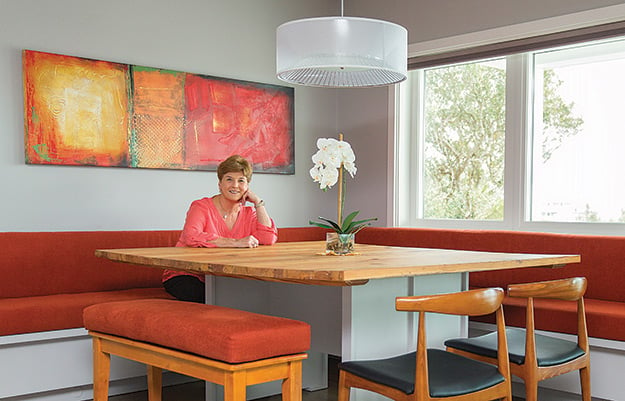 It was on a family trip with her older sister that DEBBIE LEONARD found out she was a beach person.
"The first time I saw the ocean I was twelve years old, and that was it," says Leonard, recalling the trek from her family's dairy farm in Davidson County to Carolina Beach.
The coast, particularly this corner of North Carolina, continued to draw her over the next several decades. Even during the fifteen years she spent coaching women's basketball teams at Duke University or traveling around the country as a sports commentator, she'd often take breaks here.
So when it came time pick a spot for a vacation house, Leonard decided on Kure Beach.
"I had heard people talk about it being one of the last smaller beach villages in North Carolina," says Leonard, who lives in Hillsborough. "I fell in love with the little village. It's the perfect place if you want to get away and have good people around you but also have your privacy."
With the geography settled, Leonard bought a townhome in Kure Beach. But once she had found her ideal beach town, she wanted her ideal beach house, and that meant starting from the ground up.
"I wanted something different. I knew I would keep it the rest of my life to use," Leonard says.
She worked with Tongue & Groove, a custom homebuilder in Wilmington. The result is a three-story, 3,000-square-foot contemporary beach house that incorporates nods to the nearby environment and local history. Leonard moved into the three-bedroom home in May, and every time she visits she feels the ocean's calm.
"Now, when I come over the Snow's Cut Bridge," she says, "it's just like everything changes."
Planning Stages
When Leonard met with Tongue & Groove owner Mark Batson and his team, she was clear about certain things she wanted in her home away from home.
It needed to include space where she could work while away – these days Leonard runs her State Farm Insurance office in Durham, just down the road from her former digs at Duke University. It needed to take advantage of the ocean views about a block away. And above all, it needed to be an inviting place for friends and family to visit when they also escaped to the beach.
"When Debbie came to us to do the house, it was important to her to set a place where people want to spend time," Batson says, "because something you can't buy is time."
The house's main floor features an open floor plan. The kitchen space extends to the custom-made table nook with a wrapping banquette, and both areas flow uninterrupted to the living room. Large windows let in light and highlight the view, while a mix of seating accommodates a crowd.
Downstairs also was designed with good friends and good times in mind.
Half the level, the side not actually being used as a garage, serves as a prime spot for hanging out or tailgating at home. With the bay doors open, the rolling TV stand makes its way outside where the grill gets fired up. A game might kick up on the shuffleboard court, and if there's a bite in the air, people gather around the fire pit.
Those details are partly why the house won Tongue & Groove a "Best Outdoor Living Space" honor last month at the Wilmington-Cape Fear Home Builders Association's MAX! Awards (The home also picked up a top award in the builders association's Parade of Homes last year in the $800,000-$1 million category).
Personal Touches
For all its public accolades, Leonard's beach house was very much a personal project.
She had an elevator added to the plans for when her elderly mother visited. Though Leonard's mom died a few months before the house was completed, a framed photo of her smiling in front of the rocks at Fort Fisher graces the inside of the elevator. It was the first thing Leonard hung up in her new beach house.
"She rides in that elevator everyday," she says.
Another customized concept played out on the home's top floor. The master bedroom and bath could almost function as a stand-alone studio apartment. Behind a partition wall, exercise equipment and a home office are set aside from the bedroom but are still part of the same area for convenience so that Leonard can work away from her office.
Batson and his team also worked in interesting details.
The kitchen's booth table is made of reclaimed heart pine wood leftover from a renovation the company did on a 1870s house in downtown Wilmington.
"You sit there, you can see the nails, you can see the pockmarks in the wood," Batson says. "It kind of ties the old with the new."
And the house has a number of subtle nautical references. The wrap-around porch railings are made from anodized aluminum like the kind found on boats. The outdoor shower, which Batson lined with cement board siding in a fish-scale pattern, uses a dock cleat for a handle.
"Our style is varied," Batson says about the homebuilder's approach. "I like different things, and I try to add a twist to each one."
Hoop Dreams
Despite her successful career at Duke, Leonard has few Blue Devils mementoes on display at the house – save for a couple of royal blue chairs in the living room. There's good-natured ribbing from her pro-Carolina neighbors, which is sure to pick up this month during March Madness.
But what she does have on display is a cluster of awards from her time as head coach from 1977 to 1992, including a glass piece honoring her as an ACC Women's Basketball Legend inductee. When she left Duke, she had a winning overall record, and Leonard says she is proud to say that two of her former players are now head coaches in the ACC, too.
Also on display are photos of her days as a women's basketball game commentator. It was a phrase from that time that became the inspiration for her Kure Beach house' name: Second Wind.
"When I was doing a lot of commentary for a lot of different basketball networks, I found myself using that phrase a lot. In the end, every athlete has got to depend on their second wind to get them home," Leonard says. "I thought it'd be perfect because this is kind of my second wind."
To view more of photographer Chris Brehmer's work, go to www.chrisbrehmerphotography.com