Back to Baby Steps
Lessons learned from injury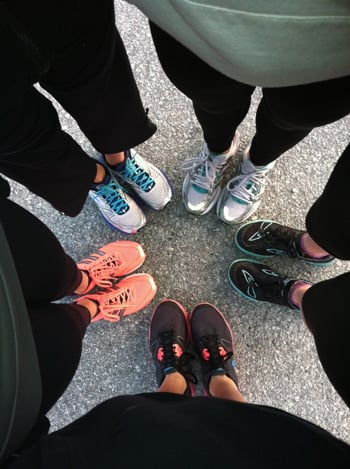 As a former high school high jumper and hurdler, I know my fair share about injuries. After being diagnosed with scoliosis at age 10, I was constantly reminded of the likelihood of encountering back problems.
Right before graduating from high school, I injured my lower lumbar spine. Doctors warned me if I continued to compete, I would experience reoccurring detrimental back issues in the future. At age 17, of course, I was stubborn. So, I ignored their verbal caution tape and got back out to conquer the obstacles that were screaming my name. For several months, the pain stayed away. After a semester as a heptathlete for UNCW's track and field team, however, I found myself once again at the doctor's door, debilitated by excruciating back pain. It was then I decided to heed the doctor's warning and call it quits on my track days. To put it lightly, I was devastated.
After every sports-related injury, I would explore other exercise outlets such as, elliptical workouts, stationary bikes, Pilate classes and yoga sessions. Although they kept me in shape, I wasn't happy with these exercises. Soon after I'd start, I would stop going and find a wonderful spot in front of the television exercising my jaw muscles munching on Oreos. I was lethargic, unmotivated and overall unhappy. This time, however, it struck me fast and hard that I did not want these sedentary afternoons to become a habit.
After my back healed in March 2009, I took my mom's advice and went for a walk. To my surprise, I absolutely loved it. Later, I was able to turn walks into jogs, jogs into longer runs and eventually runs into 5k races. Finally, I was exercising with a smile on my face and a cooperating spine. What a relief…literally! I continued on to race my first half marathon that fall, which has become an annual tradition for me.
Overcoming an injury can be a painful experience, but I strongly urge you to not let it cripple the desire to stay active and healthy.
Perhaps for you, your go-to activity is walking and talking with a friend, kickboxing, biking in the park or just dancing in front of the mirror. Whatever the physical activity, find yourself through it. You owe it to your one and only body to unleash the potential that lies within it, no matter the hurdles life throws your way.
Wilma intern Maxann Keller graduated from UNCW with a degree in Communication Studies in December 2011. She continues to run three to eight miles nearly every day and hopes to someday compete in the Boston Marathon.