Baby Biz
From Idea to Brand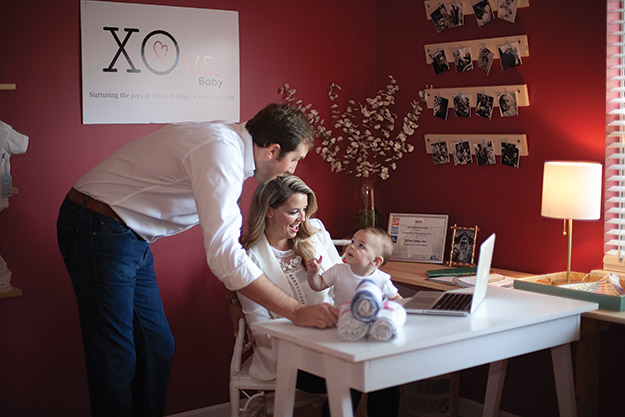 If it feels good on your precious baby's body, they will buy it. That's what husband-and-wife team Donnie and Bethany Bullers thought when they began researching and building XOve (pronounced ex-oh-vee-ee) Baby.
While currently a Wilmington-based line of high-end, 100 percent organic cotton baby clothing, bamboo muslin swaddles, and layette gift sets, the pair hopes to grow the brand to include products for the whole family. Donnie and Bethany also donate one brand new item to a child in need for every item purchased by paying customers.
The idea for XOve Baby came to the Bullers in 2011. Donnie works full-time as a financial controller for a Wilmington company. Bethany worked in the finance area of PPD for more than three years. Previously, however, several of her jobs in high school revolved around children, including babysitting, childcare, and being a nanny.
They knew they wanted to one day own their own company. And they knew that giving to others would be part of the business plan.
Soon their combined desire for business plus baby plus giving became the foundation for XOve Baby.
"We knew that the baby industry has a high demand and is always growing," Bethany says.
They wanted to offer high-quality products to sell to more discerning buyers who didn't mind spending the money on something that looks and feels good and is easy to take care of. After all, she says, moms probably don't want to be dry cleaning a baby blanket.
They began looking at baby clothes and "didn't love" the quality of what they found. They wanted something soft to the touch, which Bethany says is important to the consumer. Neither of them had a background in textiles or apparel manufacturing, so there was a lot to learn.
With the luxury of hindsight, Bethany says she's happy they took the time – about three years from concept to product offering – to complete the appropriate due diligence.
The market, she says, is very complex. They looked for manufacturers who could provide the type of clothing they wanted to buy. They chose designs and colors and the initial product offerings (swaddles and onesies). They found the manufacturer in China. XOve Baby's tags say, "Designed in Wilmington, Made in China." They decided to donate one item for every item purchased, therefore checking the last box of their want-to-do business plan.
They started offering the products about a year ago. Bethany, a University of North Carolina Wilmington graduate who majored in communications studies, says she was pleasantly surprised by the network of supporters she had in the city, many of whom have become her customers and word-of-mouth-advertisers.
The Wilmington market, she says, "has really responded well." The skills she learned after college when working at WILM-TV, a CBS affiliate, such as advertising and sales, help her market XOve Baby. One of the biggest ways she's marketing, she says, is through family-focused blogs written by and for mothers. She recently launched her own blog, as well, sharing personal family stories as a way to connect with her targeted markets.
When their son, Jack, now ten months old, was born, Bethany returned to work but then left again to devote herself full-time to the growing business.
It appears to have been a good move: Sales have increased and in 2015 are projected to triple the first-year sales, thanks in part to the introduction of wholesale and online services such as Pinterest Buyable Pins and Amazon.com, Bethany says.
They sell the majority of their products on their website (xovebaby.com) and through Amazon. In addition, customers are available to touch and feel (and buy) live in three Wilmington stores: Dragonflies, Froggy Pond, and Peanut Butter & Jelly.
Their first bulk donation was on home turf, to the Smart Start of New Hanover County, a nonprofit that focuses on early childhood development from birth to the age of five.
Bethany worked with United Way of the Cape Fear Area to identify areas that needed support. They try to donate to places where parents are interested in improving the lives of their children; many recipient organizations have an educational component. So far they've donated the swaddle blankets, which are comfortable, could be used in all types of weather, and allow parents and their children to own a high-quality product they might not otherwise be able to afford.
They've also donated in New York City and San Francisco.
The donations are altruistic, and they also help share the XOve Baby brand geographically, thereby increasing the market. The short-term goal for the Xove lifestyle brand, Bethany says, is to start making matching toddler T-shirts.

Xove Baby will part of a brand that continues to give, the Bullers say, and be a family affair.
To view more of photographer Terah Wilson's work, go to timelessfotographie.com