August Take 5
Kelly Rae Williams: Poet warrior and community outreach coordinator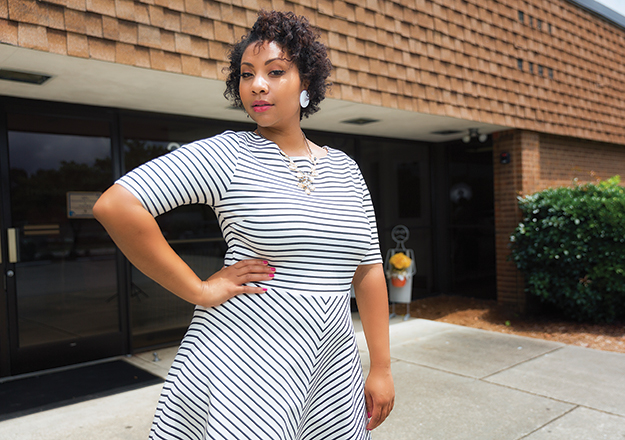 Advocating for racial and gender equality is not just a job for KELLY RAE WILLIAMS. It's a passion that infiltrates her poetry and her life's work. Williams, who is community outreach coordinator for the YWCA Lower Cape Fear, is finishing up her MFA in creative writing from Queens University and has published and is working on several works.
DESCRIBE YOUR PERFECT WEEKEND DAY. "My perfect weekend day would be one where I have no obligations. A perfect weekend for me would start off at the beach, then would transfer to the spa for a mani/pedi, some retail therapy, dinner, the movies, and maybe live music at a cool bar." WHAT IS YOUR IDEAL ENVIRONMENT IN WHICH TO WRITE? " … in a coffee shop with a cup of tea and soulful alternative music or eclectic jazz or neo soul. I have written some of my best pieces in coffee shops." WHAT DO YOU LIKE MOST ABOUT LIVING IN WILMINGTON? " … the art scene. There is literally a live music, singer songwriter, poetry, drumming, belly dancing, and art gallery event almost every day of the week. We have some really talented creative artists in Wilmington, and I love that they are constantly performing, constantly keeping their work sharp and being involved in regular gigs." IF YOU COULD CHOOSE ONE NEW SKILL OR TALENT TO DEVELOP, WHAT WOULD IT BE? "Well, honestly, I would be a musician/singer/songwriter. I wouldn't say music is a new skill. I was classically trained in music and musical theater, but I am obsessed with music." WHAT ADVICE DO YOU HAVE FOR EMERGING WRITERS? "Find conferences, submissions, open mics, readings, whatever you can do to showcase your work, test it, expose it to a mass group of people is the best thing for you. … Finally I would say, stand behind your work and be confident in knowing that everyone's story is important and valuable."
Kelly Rae Williams' full profile ran in a recent WILMA Weekly email.
To view more of photographer Chris Brehmer's work, go to www.chrisbrehmerphotography.com/.