August Spotlight
Women Who Rock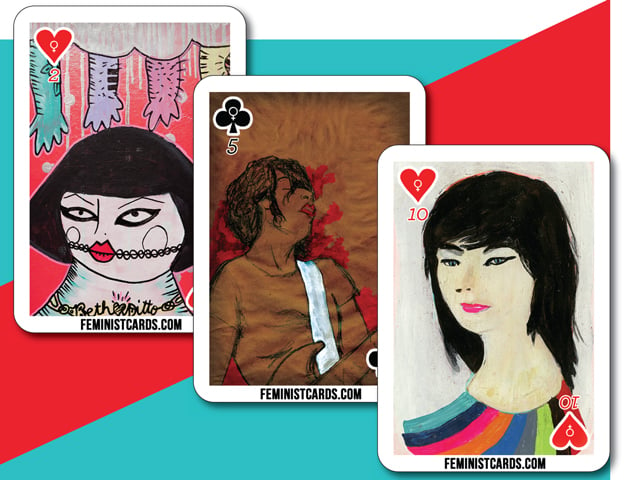 Wilmington native, Lynn Casper, has created the Feminist Playing Cards. Each card features an illustration of a noteworthy female musician by a female visual artist. From Yoko Ono to Sinead O'Connor, the pack of cards provides a snapshot of 56 female musicians illustrated by 14 artists.
"Somewhere out there, there's a girl who doesn't know she can do incredible things, because she hasn't been exposed to the many women who have. Hopefully projects like this will empower her to know she can do anything," Casper said.
She raised $12,954 on Kickstarter to create the Feminist Playing Cards, which is a side project of her music website and podcast, Homoground, that aims to unite the lesbian, gay, bisexual and transgender music community through events such as the Pink Sheep Film Festival at City Stage.
The playing cards are available at feministcards.com for $24.99.
– By Lindsey Yeager
Women who achieve
Former state representative Sandra Spaulding Hughes was honored as the recipient of the Lifetime Achievement award at this year's YWCA Women of Achievement awards. She served as state representative at the N.C. House of Representatives 18th district from 2008 to 2011.
Nine other women were recognized for their exceptional work in their industries. They include Gwenyfar Rohler (Arts), Jenny Barnhill (Business), Shea Carver (Communications), Margaret Robison (Education), Elise Rocks (Environmental), Laurie Bystrom (Health and Wellness), Elizabeth Redenbaugh (Public Service), Ashley Miller (Volunteer) and Katherine Weller (Rachel Freeman Unsung Hero Award.)
– By Alison Lee Satake
Hoggard principal named Scotland County assistant superintendent
Pamela Baldwin, Hoggard High School principal is the new assistant superintendent of curriculum and instruction in Scotland County. Baldwin has been principal of Hoggard for over a year. She has worked previously at many different levels in education ranging from teaching high school science to coaching gymnastics and track. Baldwin says she is looking forward to working in her new position and she appreciates the love and support from friends and colleagues.
"I am very excited about the new challenge, but will miss my Hoggard family," she said. "I know that the fine staff at Hoggard High School will continue to do great things."
– By Allie Wilson
Mrs. Wilmington wins state crown
Wilmington resident Corinne Edwards was crowned the new Mrs. North Carolina United States 2012 in June at the Newton-Conover Auditorium in Newton, N.C.
She lives with her husband, Wingate Edwards and their son, Walt, 2, in Wilmington where she is the state spokeswoman for the Juvenile Diabetes Research Foundation. Top contestants received prizes worth over $2,500 each, while Edward's winning prize package was worth over $100,000.

Edwards competed in the National Mrs. United States pageant in Las Vegas in July.
– By J. Elias O'Neal
BOOK CLUB
Local author publishes new children's book

Meet Panda, a new children's book featuring a friendly American pit bull, was recently published by local author and artist, Cammeron Batanides. Panda's journey to find a home and a friend is told in a 22-page hardback book available at Old Books on Front Street, Two Sisters Bookery, Doggie by Nature, Pomegranate Books and Cape Fear Spay and Neuter in Castle Hayne.
-By Allie Wilson