August Spotlight
Spotlight on area women making news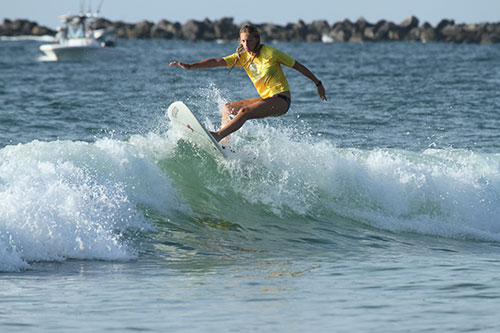 Wahine Classic Hits the Waves
The WRIGHTSVILLE BEACH WAHINE CLASSIC, an all-girls and women surf competition returns August 11-13.
"There are only a handful of surf competitions on the East Coast for ladies," says JO PICKETT, event organizer, surf teacher, and former U.S. national shortboard champion.
The Wahine Classic draws participants from amateurs to professionals from around the world, from young "guppies" to pro surfers. A cash prize is offered for the Pro Divisions.
Spectators can catch the competition 8 a.m.-4 p.m. August 12 and 8 a.m.-3 p.m. August 13 by using beach accesses 37 and 38 or by taking a short walk from Blockade Runner Beach Resort, the event's host hotel.
"It is encouraging to see an increase in surfing and other watersports opportunities for ladies and girls," says MARY BAGGETT, Blockade Runner co-owner. "With surfing as an Olympic sport starting in 2020, one day we hope to see our Wahine Classic girls on the podium wearing gold, silver, or bronze."
–Vicky Janowski
Hunter-Havens Starts as NHC Elections Director
RAE HUNTER-HAVENS started as the new elections director for New Hanover County's Board of Elections on July 4.
Hunter-Havens has served as an elections system specialist since 2011 and has been the county's interim elections director since May 26.
As an elections system specialist, she focused on the technical aspects related to administering an election. She coordinated all polling locations and was involved in different facets of the voting process from supervising the programming and testing of voting equipment to tabulating elections results.
In her new role, Hunter-Havens will plan and direct overall operations of the county's Board of Elections for all federal, state, and municipal elections.
Deputy County Manager Avril Pinder says that Hunter-Havens is committed to overseeing the county's elections in an efficient, accurate manner.
"She is experienced, dedicated to the profession, and has a strong commitment to public service," Pinder says.
–Suzanne Cosgrove
Local Attorneys Named to 'Women In Law' List
Several local attorneys were included on the 2017 Women in the Law list in the spring Business Edition of Best Lawyers, an attorney ranking service for more than thirty years.
They were:
MAGGIE SENTER BENNINGTON, of Hutchens Law Firm; JENNA FRUECHTENICHT BUTLER and LEIGH WILKINSON, of Ward and Smith; KATHLEEN SHANNON GLANCY, of The Law Offices of Kathleen Shannon Glancy; JILL PETERS KAESS, of Smith Moore Leatherwood; PAULA KOHUT, of Kohut & Adams; BONNIE REFINSKI-KNIGHT, of Harris, Creech, Ward & Blackerby; REBECCA KNUDSON and COLLEEN SHEA, of Cranfill Sumner & Hartzog; LANA WARLICK, of Law Office of Lana S. Warlick; and TERRE YDE, of Terre T. Yde.
Kohut was also named a Lawyer of the Year honoree in the publication.
"I believe in our community and the people who make up our community and feel honored to help those who need my legal ability," says Shea (above), a partner in the Wilmington office of Cranfill Sumner & Hartzog who practices medical malpractice law. "I am surrounded here by so many other successful women."
–Suzanne Cosgrove
United Way Board Adds New Members
United Way of the Cape Fear Area recently welcomed three new business and community leaders to its board.
GINA ANDREWS, STACY ANKRUM, and RUTH RAVITZ SMITH joined the United Way of the Cape Fear Area (UWCFA) Board of Directors.
"These respected individuals volunteer their time and talents to help United Way create long-lasting, positive change to improve lives and strengthen our local community," officials with the local nonprofit organization say.
Andrews is the business development director for Atlantic Bay Mortgage Group, a privately held national mortgage banking group headquartered in Virginia Beach, Virginia.
Smith is the chief communications officer for New Hanover County, and Ankrum (left) has the role of senior vice president of commercial banking at First Citizens Bank.
The new board members join a list of twenty other business and community leaders currently serving the UWCFA's board. The UWCFA has a mission to impact the community by providing resources to meet the most critical needs of residents in New Hanover, Pender, Brunswick, and Columbus counties.
–Christina Haley O'Neal