August Spotlight
Spotlights on area women making news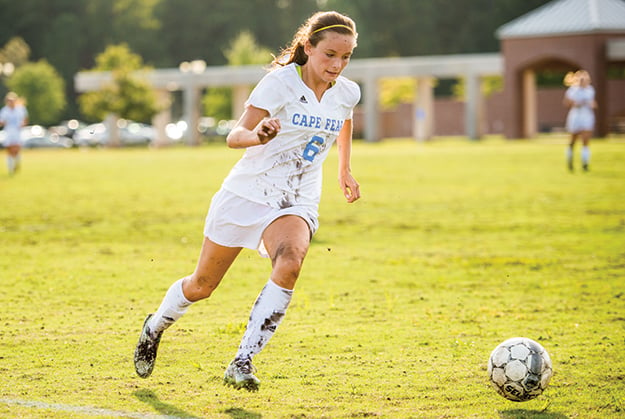 Port City Classic kicks off
CFCC's women's soccer team hosts its first Port City Classic tournament this month. Besides the CFCC Sea Devils, visiting teams from Oxford College of Emory University, Howard Community College, and Frederick Community College also will compete in the two-day tournament.
August 27's games are at Legion Stadium, and August 28's games are at Cape Fear Academy.
The inaugural tournament comes as CFCC's women's and men's soccer teams move their home games to the 6,000-seat Legion Stadium.
"We are excited to not only open our season at Legion Stadium, but excited as the CFCC Port City Classic is a great way for all the teams to get some competitive early games in and also to showcase our team's talent to four-year colleges," says CFCC Head Women's Soccer Coach RYAN DEPPA. "It is a quality opportunity for all of the participating teams to work together to promote NJCAA Women's Soccer right here in Wilmington."
– Vicky Janowski
Hill-Black named Virgo principal
D.C. Virgo Preparatory Academy recently announced that SABRINA HILL-BLACK has been promoted to
the school's principal.
She began working for Virgo in 2013 as a language arts teacher and instructional coach before assuming
the position of assistant principal at the public middle school.
Hill-Black leads Virgo as it transitions to a year-round calendar, which started July 19. She replaces Eric Irizarry, the school's first principal when it reopened in 2012 who is now a principal in Virginia.
"As the new principal," Hill-Black says, "I will continue to guide the staff and school community through
the guiding principles established with the opening of the school under Dr. Irizarry's leadership, the biggest of those being based in community partnership."
– Alexis Garrett
Women's stand-up class to launch at Dead Crow
DEAD CROW COMEDY ROOM plans to host a stand-up comedy class series for women this month.
Specific details were still in the works as of press time, but organizers will hold four, weekly classes on Monday evenings starting August 8, capped off with a graduation show, says Blaire Postman, a local comedian, working on the project with Dead Crow owner Timmy Sherrill.
Postman says she will guide the class, drawing on her experiences not only as a standup performer but also her previous work in comedy talent management and booking.
"Dead Crow is a very supportive club, known for showcasing female national headliners. But locally women make up a small percentage of those performing at open mics, and, in turn, of those who are ready to open for headliners and other opportunities," Postman says. "We want women to know that they can be just as good as men – or some nights as terrible."
For more info about the classes, contact deadcrowcomedy@aol.com or 399-1492.
– Vicky Janowski
​Magnani takes on Chamber position
During the Southport-Oak Island Area Chamber of Commerce's 41st annual meeting recently, outgoing chamber president Ali Travis passed the gavel to 2016-17 president, CAROL MAGNANI.
Magnani, advertising director for The State Port Pilot, wil serve in the role through July of next year.
"My challenge to the membership this year is to participate," she says, "to take the initiative to protect their investment in the chamber, to work together to create an even stronger Southport/Oak Island Area Chamber of Commerce."
Also at the meeting, chamber officials named new board members. They are: George Brake (Margaret Rudd &
Associates Inc. Realtors); Howie Franklin (Cape Fear Regional Jetport); Betsy Helton Kimmel (Laugh & Breathe Yoga); Patrick Jones (Ocean Outfitters); and Ken White (Farm Bureau Insurance).
– Staff reports