August Spotlight
Area newsmakers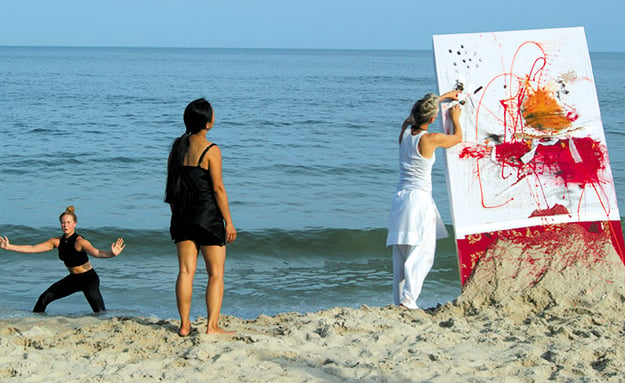 SARUS Festival returns to ILM
With support from the Wilmington community, KAROLA LÜTTRINGHAUS founded the SARUS Festival in 2007 to challenge boundaries and "offer meaningful professional opportunities" for progressive artists.
SARUS originated as a dance festival, but the annual event now offers a variety of alternative arts and performances from artists around the world. Beginning August 15, this year's festival will feature site-specific art and performances, live studio discussions, and performance workshops in the downtown area for children and adults.
With her professional background in choreography and set and sound design, Lüttringhaus says the event aims to bestow Wilmington as a greater art tourism magnet and strengthen the "community through art."
– Carly Rutledge
CWA Names New Board Officers
Coastal Women Attorneys, which formed two years ago, recently announced its new slate of elected officers and board of directors for the 2015-16 year.
LINDA DOLAN (above) is now the group's president. Dolan manages the regulatory compliance for GE Hitachi Nuclear Energy.
LINDA SAYED is vice president; KARA GANSMANN is treasurer; NANCY GUYTON is secretary; and PAULA KOHUT serves as the chapter's liaison to the state Association of Women Attorneys.
District Court Judge SARAH SEATON represents the 4th Judicial District in the group; MIRIAM THOMPSON represents the 5th Judicial District; and TAMIKA JENKINS-RICE represents the 13th Judicial District.
The chapter serves women attorneys in nine counties in the region.
– Vicky Janowski
Girls Charter School Eyes 2016 Opening
Last month, state officials approved the Leadership Academy for Young Women, anall-girls charter school with plans to open in August 2016.
The Wilmington school is expected to be the state's first single-gender public charter school.
LAURA HUNTER a previous WILMA Women to Watch Award winner; Brunswick County's professional development coordinator; and
former county Teacher of the Year will serve as the school's inaugurating principal.
Hunter has served as the president-elect of the North Carolina Council for the Social Studies board for three years and will continue as president-elect for another three years in addition to her new position as principal.
The goal for the new charter school is to build one that "stays more true to the original intention of charter schools and provides as an incubator for innovative ideas for education," says Hunter, who is eager to begin building relationships with the upcoming class of sixth graders, the first class of students starting next year.
– Carly Rutledge
Aquarium hires its first female curator
The North Carolina Aquarium at Fort Fisher named Julie Johnson as its first female curator. Johnson commenced her position in June.
Johnson began working with the aquarium in 2000 as a volunteer. In 2005, she started full time as the aquarium's technician.
As curator, Johnson is responsible for ensuring the health and well-being of the animals to meet the Association of Zoos and Aquariums requirements. In addition to greater managerial responsibilities, Johnson says she is accountable for safeguarding the new exhibits and designs in a "collective effort" with other employees.
One of Johnson's top priorities as curator is to support endangered species by highlighting them throughout the aquarium and providing information to visitors.
– Carly Rutledge