August Spotlight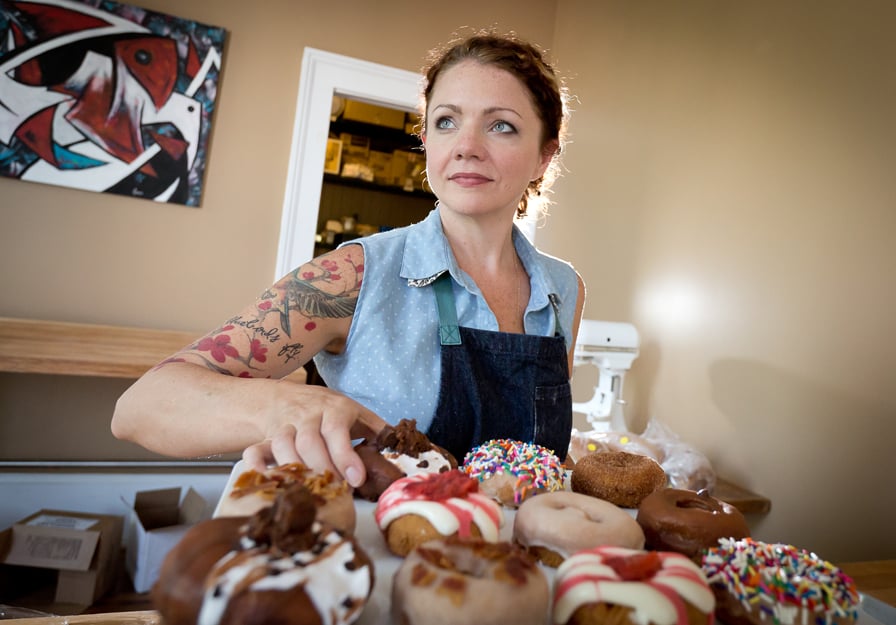 9 Bakery & Lounge's New Baker
9 Bakery & Lounge has a new bakery and catering director – ABBYE MCGEE.
"I was honored and so excited to work with such a talented staff; the bakery produces all of the breads, desserts, cookies, and pastries for the restaurant as well as other local restaurants," she says.
McGee, who learned to bake from her grandmother as a child, began baking professionally two years ago. Her new position involves managing the staff, overseeing wholesale accounts, and baking desserts for restaurants. In her free time, she writes and styles food on her blog, noshroom.com.
"I want to bring attention to excellence and experimenting in different things by expanding the menu here," McGee says. "I'm a nurturer at heart and hope to bring that spirit to the culture through food that maintains our high standards but also still feels comforting and full of love."
-Kaitlyn Russell
Tetterton Authors History Book
Beverly Tetterton wrote Maritime Wilmington, a pictorial history book released in July. A retired local history librarian, Tetterton has been interested in maritime history since moving to the Port City in 1980.
Most photographs in the book, released by Arcadia Publishing, come from the public library.
"I think that when people today go down to the waterfront to have fun they generally don't have a clue about the working waterfront that it was for most of its history. I wanted to share that," she says.
-Kaitlyn Russell
UNCW Student to Vie for MIss America
University of North Carolina Wilmington student and previous Miss Greater Sampson County BETH STOVALL heads to Atlantic City, New Jersey next month to represent the state in the Miss America pageant.
Stovall won the title of Miss North Carolina 2014 in June.
Majoring in vocal performance, Stovall performed an opera piece on stage for her talent at the state pageant. With her new title, Stovall will put classes on hold while she prepares for the national scholarship pageant, according to the Miss North Carolina website.
Stovall's platform is entitled "Inspiration: Art," according to a press release. She hopes to get more students involved and interested in the art community through her journey as Miss North Carolina.
-Kaitlyn Russell
CWA Names New Board
The OASTAL WOMEN ATTOURNEYS (CWA) group recently named its new officers for the year. The group formed in July 2013 as a chapter of the North Carolina Association of Women Attorneys.
"We've grown from ten members to more than forty-five in the last year and are growing," says PAM BUTLER, a civil defense litigator with McGuireWoods and the chapter's newly named president.
She says Katherine Parker, a partner at Tin Fulton Walker & Owen and chapter's immediate past president, started the group to help bring together local women attorneys.
Other new board members are: Abby Lund Adams, Linda C. Dolan, Nancy M. Guyton, Paula A. Kohut, Linda B. Sayed, Sarah Seaton, and Elizabeth L. Simmons.
-Vicky Janowski