August Spotlight
Area newsmakers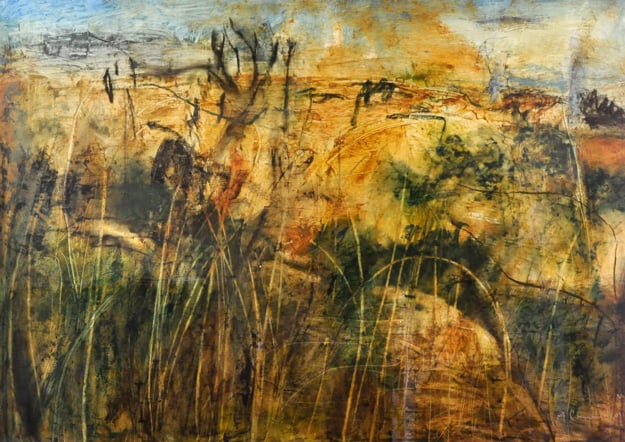 Michelle Connolly will now serve as president of No Boundaries International Art Colony, the group recently announced. The art colony hosts sixteen artists for two weeks on Bald Head Island each year. The colony has featured artists from more than twenty-six countries, with Rwanda and Indonesia being additions to this year's roster in early November.
Connolly has participated in No Boundaries for the past four years as a painter. This is the first time the group's founders have stepped back and appointed control to an outside member.
"I have always been a promoter for the arts," says Connolly, whose painting from a previous No Boundaries is shown above. "This is one of the reasons why the founders of No Boundaries have passed on their duties to me."
-Evan Amezcua
Dosher promotes Northup to chief nursing officer

Carol Northup has been named senior vice president/ chief nursing officer at Dosher Memorial Hospital in Southport.
As part of Dosher Memorial's senior leadership team, Northup is tasked with handling nursing operations in Dosher Memorial's patient care unit, emergency department, operating room, PACU, Dosher Nursing Center, and several other clinical areas.
Northup earned her bachelor of science in nursing degree from Marycrest College in Davenport, Iowa and her master's degree from the University of Iowa.
-Evan Amezcua
Day school for autistic students to open in fall

Nonprofit organization OASIS, a school program dedicated to supporting children on the autism spectrum, plans to launch a day school for the upcoming academic year, nearly two years after the company's debut in 2011.
Executive Director Erika Merriman, a former special needs teacher, says that by expanding the program, children will receive individualized education through a "learn to mastery" teaching style.
OASIS' private school will start as a half-day center for kindergarten through fifth grade students. Merriman hopes to expand into a middle and high school program in the future.
For its first year, OASIS will teach six autistic children at its private day school, in addition to its other after-school programs and clubs.
-Lori Wilson
School district names new administrators


New Hanover County Schools officials announced new assignments for several district and school administrative positions.
Julie Askew (shown above) will serve as the school district's director of special education. She was the director for the Exceptional Children's Programs and Student Support Programs with Pender County Schools and has experience in teaching behavior disorders and learning disabilities with the school districts in Craven and New Hanover counties.
The school district also named Daniella Stamm and Erin Hankard as assistant principals at New Hanover High School. Stephanie Cole will serve as an assistant principal at Ashley High School. Sherry Veasey was named principal of Freeman School of Engineering.
-Evan Amezcua