'Athletic Puzzle'
New indoor rock climbing gym opens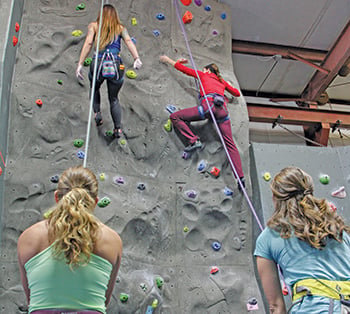 Indoor rock climbing challenges body and mind.
"Rock climbing has this reputation of being a sport for thrill-seekers, and maybe it is to an extent, but if you're wanting to learn climbing as a sport, and you want to excel, it's much less focused on the thrill and much more focused on the skill," says HAYLEY SWINSON (above in red), assistant manager and climbing instructor at WILMINGTON ROCK GYM.
The gym opened last year in Porters Neck with over 3,200 square feet of climbing surface in the converted warehouse. Since its opening, it's been drawing experienced climbers and those new to the activity.
Of all the forms of exercise Swinson has tried, she says she finds rock climbing to be the most natural workout that helps increase strength and flexibility – and not just in the body.
"You have to figure out the proper sequence of moves in order to make it the most efficient climb," she says. "So, it's not just a physical game, it's also a mental game. It requires problem solving. It's kind of like figuring out a puzzle."
And when you finally figure it out, Swinson explains, there's a sense of accomplishment. After working and focusing on each individual move, to be able to put it all together and make it to top – it's an exhilarating feeling.
An all-women's climbing club is now offered at the gym – once a month, every second Friday.
There's also a class for kids starting up in January called "Young Aspiring Climbers," for ages seven to ten and eleven to fourteen. It's common to see entire families coming to climb together, Swinson says.
And those who come alone are usually not alone for long.
"There's a feeling that you really can talk to any climber here," says Hayley Swinson of Wilmington Rock Gym. "People are willing to help and actually excited to help, and excited to see each other do well.
That's one of the most (rewarding) things about working here – folks from all different backgrounds get into the gym and form these unlikely friendships," she said.
Swinson explains that indoor rock climbing, which many do to train for outdoor climbing, is more of a lifestyle than a hobby.
"Most people who are serious about climbing are also watching their diet, watching their exercise routine, really focusing on getting stronger and more flexible for their sport," she says. "There are also a lot of climbers who are very passionate about the outdoors, about advocating for our national parks, and being good stewards of the outdoors."
In the coastal town of Wilmington, with no natural features to climb on for hours away, the rock gym is heaven for those with a passion for climbing.
The need for a place like this was apparent to owner Charles Ferrar, who says it had been eight years since a public indoor climbing gym was open in Wilmington.
When Ferrar couldn't find a local spot to climb, he decided to create one himself, transforming an old boat warehouse into the space it is today – a climbing room with colossally tall walls, leading into a lounge area with gear and a small library packed with training manuals and a fitness room attached. The gym has only been open a little over three months, but already, word has spread. People are bringing their friends, and those friends are bringing friends.
For Ferrar, the best part of the job is helping people get involved in the sport that he describes as an "athletic puzzle."
While rock climbing has a long history, it's not quite as mainstream as other forms of recreation.
Even Swinson's parents had to ask her, "Are you sure this isn't just a fad?" She laughs recalling the question but maintains that climbing is here to stay, and it's becoming more popular by the day.
Climbing gyms are popping up everywhere, and climbing has been added as an official sport in the next Olympic Games in Tokyo.
Even for those who have never climbed a rock (or hold) in their lives, however, Wilmington Rock Gym has options for people of all skill levels and for those of all ages, from toddlers to seniors. Day passes, monthly memberships, classes, and even parties can be purchased to enjoy the facility, open from Tuesday to Sunday.
Some may choose to boulder, which is climbing without a harness on 9- to 10- foot walls, while others opt to top rope, tackling 20-foot walls while tied into a harness with a partner on the ground belaying.
For anyone intimidated by all the climbing lingo, fear not – the six-person staff at the gym is as friendly as they are helpful, ready to guide their customers through the process and ensure their safety and enjoyment.
"My only goal," Ferrar says, "is that everyone is safe and has fun."
To view more of photographer Amy Conry Davis' work, go to www.gypsypye.com.