At The Movies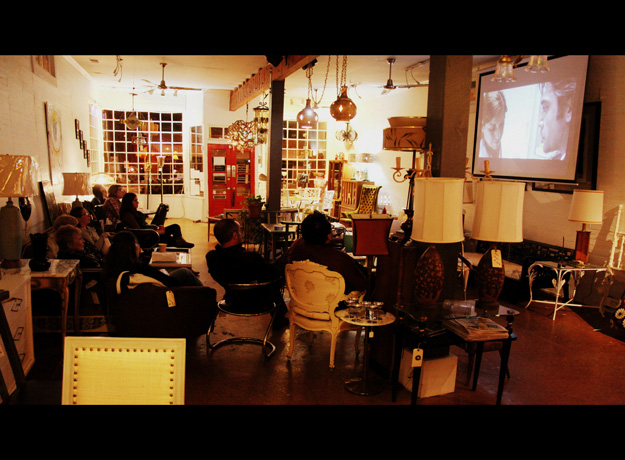 Occasionally, two things come together in a perfect WAY.
In a way that perhaps makes each individual thing even better than it was on its own.
Think peanut butter and jelly, couches and football, concerts and glow sticks. As winter settles into the Port City, enter movie night – specifically, a combination for the history books: movies at the bar.
At Projekte Gallery & Lounge on the corner of Third and Castle Streets downtown, you're in for a thought-provoking film and, possibly, a lively discussion after.
"We don't want to just show movies that people can pull up on Netflix at home or why come out?" says owner Kraig Bienias.
Bartender Lilly Rhiannon works in conjunction with Wilmington's own Working Films, which strives to "link non-fiction film to cutting edge activism." Viewers often engage in discussions following the documentaries, sharing their thoughts and opinions about what they've just watched.
There isn't a funkier venue in Wilmington for a casual night of film and conversation. Choose your seat from an array of vintage furniture and settle in with a glass of wine or a craft beer and a locally-made pastry as a snack. An ever-changing mix of local artwork adorns the walls.
For a less thought-provoking or perhaps more family-oriented movie night, head up to South Second and Greenfield streets to local favorite Satellite. Its courtyard boasts a large movie screen – almost reminiscent of a small-scale drive-in theater. There are some wooden benches and a few rocking chairs sheltered from the elements and plenty of seating in the grass under the sky. Sometimes patrons even bring their own blankets and chairs.
On Mondays, Satellite shows family films, and on Tuesdays, there's a double feature. Both nights center on a monthly theme, chosen by bartender Steph Hamblin. The schedule is displayed on a colorful chalkboard near the courtyard door.
Satellite shows films all year round and is often open and showing movies on holidays. Check out a classic holiday film after you wake up from your Christmas or New Year's Day nap.
In Wilmington, where even through its winter there's always the possibility of balmy weather, you might find me on a Tuesday night, bundled in a blanket in Satellite's courtyard with a beer in my hand, surrounded by the smell of rosemary, the tree to the left of the screen glittering in its draping of year-round lights as I watch the featured movie of the week.
MOVIE NIGHTS
Projekte Gallery & Lounge
523 South 3rd Street
First and third Wednesdays, 8 p.m.
Socially conscious documentaries in conjunction with Working Films
Satellite Bar and Lounge
120 Greenfield Street
Mondays, 7 p.m.
Family films on a monthly theme
Tuesdays, 8 and 10 p.m.
Double feature, monthly theme
The Juggling Gypsy Café
1612 Castle Street
Sundays, 8 p.m.
Subversive film nights
TheatreNOW
19 South 10th Street
Fridays, 9 p.m.
Cult movie nights, $4
Arabian Nights Hookah Café
3021 Market Street
Tuesdays, 8 and 11 p.m.
Double feature, monthly theme
www.arabiannightshookahcafe.com
To view more of photographer Bryce Lafoon's work, go to www.brycelafoonphotography.com.