At Medicine's Front Door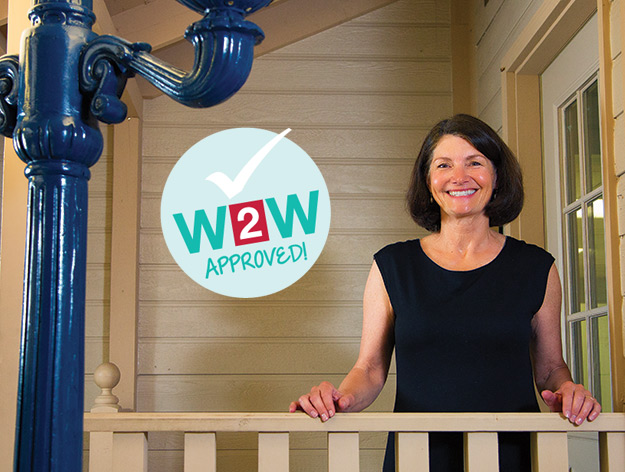 Alot of things have changed in the thirty-four years since DONNA BOST joined New Hanover Regional Medical Center.
Personally for instance, she's living in a house and not on a boat anymore. For the health care facility, itself, hospital beds use electric rather than manually cranked hospital beds. And lots of new buildings and services have been added and improved.
"It was a good hospital when I came, and it's just gotten better over the years," Bost says. She is currently vice president of special hospitals and support services and one of three women on New Hanover Regional's executive team. This is a far cry from the young nurse who moved to Wilmington to be closer to the water so she and her husband, Lee, could race offshore on their 28-foot San Juan sailboat, Par Avion, without having to get up before the sun at the end of a weekend racing to drive back to Winston-Salem to work.
When they made the move, she was jobless but hopeful. They lived on the boat with their cat until she landed the job.
Bost has held a number of positions at NHRMC, including staff nurse, shift supervisor, and several mid-management positions. She has overseen maternal services, cardiac services, surgery, labs, and radiology over the years. She says her ability to work in a number of "wonderful jobs" is a gift that New Hanover Regional has given her.
She's been with the health system's Orthopedic Hospital – formerly called Cape Fear Hospital – since 1999 when NHRMC purchased it and currently oversees the sixty-bed facility as well as the sixty-two-bed Behavioral Health Hospital, pharmacy
services for the network, residency clinics (OB/GYN, surgery, internal medicine, and family medicine), and the Orthopedic Hospital on Wrightsville Avenue.
There are directors of each of these areas, Bost says, and the directors report to her. Management teams report to the directors. Bost is ultimately responsible for quality and safety of care provided in these areas, physician relationships,
strategic planning for the service lines, service and operational excellence, and financial accountability.
When asked why she's been tapped for each of these positions, Bost thinks for a moment and says, "I think that I'm tapped for the ability to pull groups of people together to either start a new service, improve a service, grow a service, and the ability to look at each of those functions I've described."
She credits having had "a lot of wonderful mentors over those thirty-four years (who) have taught me so much about business planning and problem solving and those sorts of things."
She looks back at the accomplishments – the ones most important to her – of the divisions she oversees. She's proud of the orthopedic service and its growth, a service that will become increasingly important as members of the community age and need hip and knee replacements.
"As a trauma center, we see patients from all over the area that have had terrible injuries," she says. One of the highlights of her work is watching staff at the rehab hospital help people learn to live their lives after the injury, despite the challenge. She recalls one of the rehab patients with physical challenges and who loved to fish.
"They had him at the swimming pool edge in his wheelchair practicing fishing so he could get back to life again, as he defined his life," she says.
Bost is proud of NHRMC's efforts to destigmatize mental illness and the collaboration with other community stakeholders to provide better coordination of behavioral health services.
Historically in hospitals, Bost says, pharmacies "were in the basement of the hospital, and their role was to get the medicine up to the floor." Over the last seven years or so, she says, the pharmacy "has grown to be a real on-site partner to physicians, nurses, and the patients, helping them to understand their medicines, interactions, and side effects both here in the hospital and when they go home."
The teaching clinics help to provide a void in access to the community, providing care to people who sometimes have trouble providing for their needs. At the same time they allow future doctors to have good clinical practice.
So, with this depth and breadth of experience behind her, what does she see in the future?
"I'm going to continue to work to try to help the community become healthier, and I'll be around for a little bit longer, and then I don't know what's next," she says.
At New Hanover Regional, for Bost, it's not about areas she oversees or job titles, she just likes being part of a team and always trying to improve in every way.
"It's about patient care, regardless of where you are in our system … I love this environment. I can't imagine not being in some way involved in health care," she says.
Bost's personal life has mirrored the changes of her professional life, with some things just being a bit different to take into account changing needs.
For instance, Bost still sails, chartering a boat in the islands from time to time. She doesn't race anymore. And these days she's moved on to power boating.
To view more of photographer Erik Maasch's work, go to websta.me/n/emaasch