At Home With Our Lady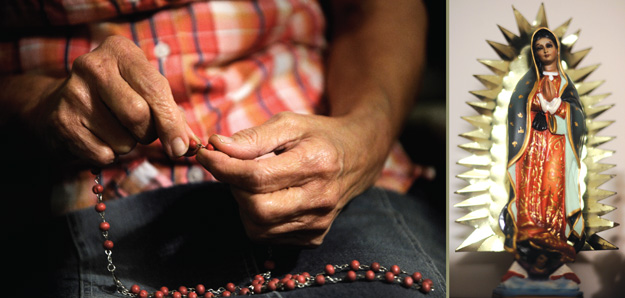 When Carmen Heredia prays to Our Lady of Guadalupe – a vision of the Virgin Mary surrounded in gilded sunrays wearing a blue starry cloak – she imagines the saint removing her protective blanket to cover her.
"For us, she's like our second mother. Our real mother is still our mother, but she gives us peace, like we're safe," says the 17-year-old New Hanover High School student.
In early October, the Heredia-Martinez household celebrated what they believe to be the Virgin's most recent miracle in their lives – a job for father Jose Heredia after two years without full-time employment.
So in thanks, the family offered to host a foot-tall statue of Our Lady of Guadalupe in their home for a week. It's part of a tradition at St. Mary Catholic Church for individual families to host the statue each week two months prior to Mary's official feast day Dec. 12.
Each night, the family waited to say the rosary in front of the statue until Carmen's two older brothers got home from work – no matter how late that was.
When a family hosts the statue, every surface she touches is new, explains Azalea Martinez, Carmen's mother.
"We don't care how much we spend for her. That table is new for her," she says. "We feel like every day we wake up and we breathe, it's because of her and God because she gives us a chance to change from bad to good."
For many Hispanic people, the mother of Jesus is seen as special above all other women and able to intercede in earthly matters. In the Catholic Diocese of Raleigh, observances in her honor are becoming more prominent in local churches as the Latino population grows. But veneration of Mary does not equal worship. As the late Pope John Paul II said of Mary's role in the church: "she is proposed to all believers as the model of faith which is put into practice."
Different countries venerate separate apparitions of Mary as stories say she's appeared to man through the years. In Mexico, she is Our Lady of Guadalupe because of her appearance to a Tepeyac Native American named Juan Diego on a hill near Mexico City in 1531. In Puerto Rico, she is called Our Lady of Divine Providence. In Amsterdam, she is Our Lady of All Nations.
On the night of Dec. 11, local Catholic congregations with large Latino memberships host huge celebration Masses. Families set armfuls of roses at her feet, and mariachi bands play into the wee hours and end with a breakfast.
At St. Brendan the Navigator Catholic Church in Shallotte, the Latino youth ministry reenacts the Virgin's apparition to Juan Diego in a service, and Latino families stay for Mass at the church, remaining to sing "Happy Birthday" to Mary at midnight.
Sister Mary Teresa, the Hispanic coordinator at St. Brendans, says she's seen the devotion to Mary grow in her parish. More than 500 people come to the Our Lady of Guadalupe Mass there, she says.
The devotion to Our Lady of Guadalupe is so great locally that one community off Carolina Beach Road, dubbed "Little Mexico" because of its high percentage of Mexican residents, has its own shrine building dedicated to her.
The baby blue building topped with a small white cross in the mobile home park holds a statue of the Virgin. And residents occasionally bring religious objects there to be blessed by area priests.
Victor and Carmen Abraham grew up in Puerto Rico with the tradition of families hosting Our Lady of Divine Providence in their homes before her feast day. But over time, that tradition died away in their town. So they were excited to host a statue of Our Lady of Guadalupe from St. Mary after moving to Wilmington this year.
"Some people call it idolatry, but it's not," says Carmen Abraham. "My grandmother and mother always told me if ever I was in need to pray to her because she's my spiritual mother. She is an important part in my everyday life, not just when I am sick."
The Heredia-Martinez family (left) passes the Our Lady of Guadalupe statue to the Abraham family (right). Photo by Amanda Greene.
Amanda Greene is the local editor and community manager of Wilmington Faith and Values (http://WilmingtonFAVS.com).
To view more of photographer Jeff Janowski's work, go to www.jeffjanowski.com.