Artists Land Pieces at ILM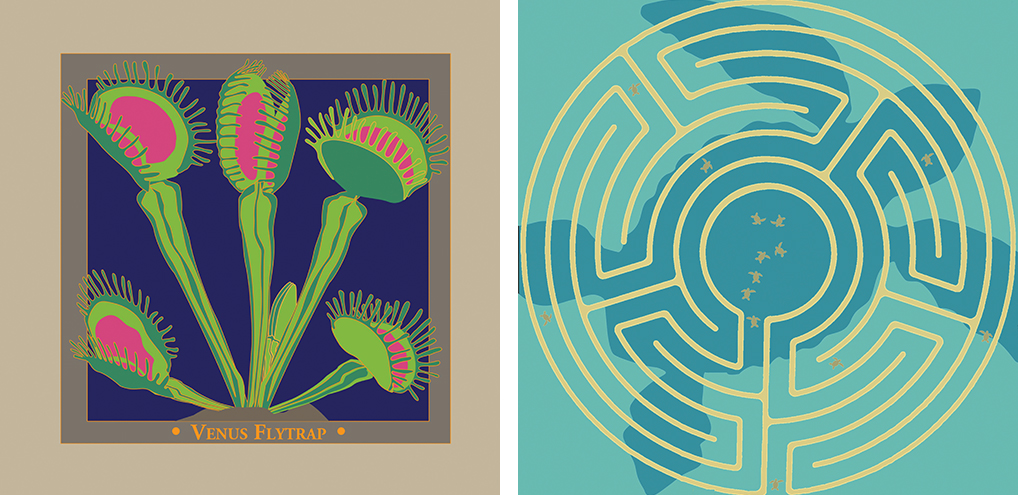 Wilmington International Airport and The Arts Council of Wilmington and New Hanover County officials chose three public art commissions as part of ILM's terminal expansion.
Two terrazzo floor designs (mockups shown above; final designs might change) were awarded to JILL WEBB and to the team of PAUL HILL and JEFF HACKNEY from more than thirty submissions.
Webb's design Loggerhead Labyrinth is a two-dimensional design featuring loggerhead sea turtles. "The path to the center of this labyrinth is an homage to sea turtles' heroic annual journey from their nests to the Atlantic," says Webb, who has created murals in Wilmington, including at Wilmington Friends School, Cape Fear Academy, Old Books on Front Street, and the Brooklyn Arts District.
Hill and Hackney's design Venus Flytrap centers on the carnivorous plant that's become a symbol of the region since it only grows naturally within 70 miles of Wilmington.
Hill also teamed up with GREG HALL for a sculpture of a laurel oak tree in the expanded airport terminal.
---
Want more WILMA? Click here to sign up for our WILMA newsletters and announcements.