Artistic Impressions
After studying art at SCAD, Kristen Crouch returned to Wilmington's artistic community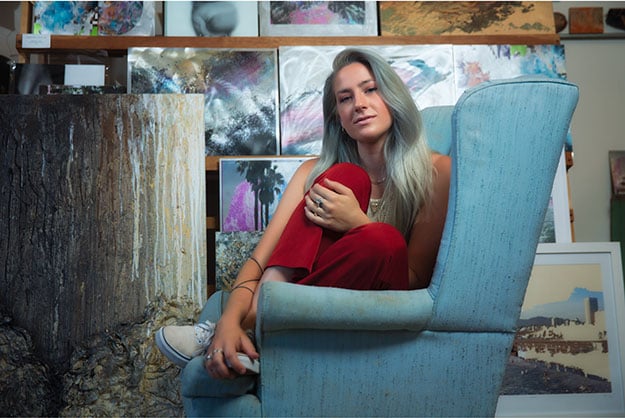 "I want to inspire and create meaningful experiences," says local artist KRISTEN CROUCH.
She is definitely heading down that path. Crouch, who grew up in Wilmington, has her own art space at downtown's Wabi Sabi Warehouse. There, she delves into personal memories and the past by producing digitally distorted abstract pieces that are photographically based.
The beautiful and somewhat mesmerizing images come from Crouch's own "visual library". She takes photos and digitally distorts them and transfers the images to metal, glass, or wood.
"You may not recognize the person or image because it is distorted. But, for me, it still represents a memory and experience but in a new, positive way," Crouch says.
The inspiration for her art started when she was a student at SCAD (Savannah College of Art and Design). Her senior thesis was in some ways dedicated to her brother whom she lost when she was fifteen. The very intimate and personalized show was a catalyst for the art she produces today.
"I may not have known it at the time, but creating this style of art became a healing process for me," Crouch says. "If I can share this and bring this to people now, then along with memorializing an event, I am also creating and sharing an experience, which is what I most want to do."
After leaving SCAD, Crouch decided to return to Wilmington. Trying to figure out her next direction, she volunteered for Kids Making It and another local charity. That step landed her a full-time offer with Wilmington-based Evolve Golf, a maker of golf essentials.
"It was my twenty-fifth birthday week, and this was a big decision for me," she says. "I decided to take the job because I was excited about bringing students in and developing the creative side of a golf company."
Had she ever played golf? "No," she says, "but I fell in love with the job and what I was doing. It was cool to see the two worlds coming together."
In another career shift and getting back to what she always wanted to do, Crouch left Evolve and eventually landed at Wabi Sabi.
"I am an artist and passionate about being an artist," she says. "I decided to take the leap and become a full-time artist and creator."
Crouch now divides her time working as a full-time artist and driving for Uber. She is all about experiences, and to her, Uber is just another facet of that.
"Experience is currency – a currency trade that is valuable," she says.
Plus, she finds Uber to be a valuable networking resource. In one Uber ride, she met a fellow artist, Jenny Yarborough, who ended up submitting work for a show that Crouch curated.
"If you listen, the world speaks through its people, connects us all for the greater good," Yarborough fondly says of Crouch. "Kristen's tuned in. That's why working with her is special. She listens."
Crouch has curated three shows since coming back to Wilmington and loves pulling together artists in a space and encouraging new perspectives.
"I see galleries as a blank space with potential, and I love the challenge of coordinating how the space speaks to the art," she says. "It is about creating meaningful experiences."
She also has a lively entrepreneurial spirit and is always thinking about where to take her art and next steps.
"I love the balance of being an artist and an advocate for art," she says.
Crouch is currently developing her own brand and plans to stay in Wilmington. "I believe it is not about being attached to where you are, but what you are doing," she says.
She strongly believes in Wilmington's rise as an artistic destination and is making that one of her goals. "I have found a new purpose in the community here," Crouch says.
To view more of photographer Chris Brehmer's work, visit chrisbrehmerphotography.com.