Artful Dining
Curated art shows are catching on at area restaurants and bars, proving a visual feast for the eyes along with the menu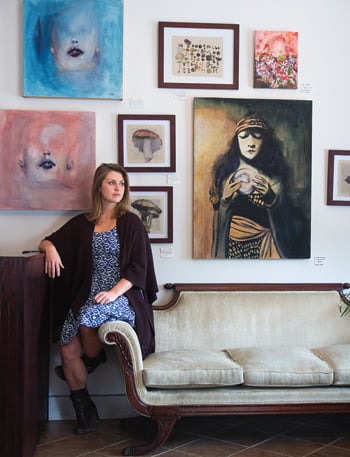 With Wilmington's deep well of local restaurants and talented artists it was only a matter of time before the two converged.
BLAIR NIDDS, curator for CANAPÉ RESTAURANT on North Fourth Street, says the relationship works well because, "of the accessible trade-off between artists and restaurants. Restaurants have blank wall space begging for décor, and artists can quickly fulfill this need for an enhanced ambiance."
While SARAH RUSHING, who is the curator for RX RESTAURANT AND BAR on Castle Street as well as PEMBROKE"S RESTAURANT in The Forum and also sits on the gallery committee of the Wilma W. Daniels Gallery at Cape Fear Community College, says that while restaurants regularly get new décor, the benefit to artists is twofold.
"The great thing about showing work in a busy restaurant is that there is a large audience on a nightly basis," she says.
There's also the consideration that restaurants charge little to no commission to the artists who sell their works to dining art lovers.
(Blair Nidds, curator for Canapé Restaurant)
"At Rx, artists can price their work at exactly what they want to make, which increases the number of people who can afford to buy their art. It's really a win/win for the artist and the buyers," Rushing says.
BOTTEGA ART AND WINE, which recently relocated to 122 Princess Street, started off as a gallery when Steve Gibbs and Bonnie England opened it in 2005. Bills have to be paid, though, so soon after, selling craft wine and beer – a passion for Gibbs – was added to the repertoire.
SANDY PEROTTO purchased the establishment in 2009, in part because of the combo.
"It was the best of both worlds. I studied art in college and worked in bars to put myself through school," Perotto says.
Buying Bottega allowed her to get back to what she loved.
"Fifteen years (after finishing college), I was really interested in getting back to my artistic roots," she says.
Some things about the business have been surprising, though.
"When I bought Bottega, I was a bit naive, coming from Chicago and didn't realize how dependent I would have to be on the sale of alcohol here," she says. "Although Wilmington has an enormous appreciation for the arts, it's equally fond of its booze."
Luckily, it's also replete with artists.
"Interesting art is everywhere around here, and artists know us so they mostly just come to me," Perotto says. "A lot of our regulars and employees are artists, so we just have a very creative community, and it seems lately that a show idea just kind of happens through sharing ideas."
(Sandy Perotto, owner/curator of Bottega Art and Wine)
Nidds and Rushing work in a more structured fashion, conceiving of a theme and then letting the artists create around it.
Rushing says after the theme has been chosen she contacts artists.
"I handpick the artists, not the work," she says. "I work exclusively with artists whose work I admire, who I trust to do a good job with the theme, and whose work I think will complement the others by taking artistic styles into account."
Nidds allows "all artists and all mediums to fit into the exhibit."
Perotto, on the other hand, takes a more organic approach, allowing shows to come together of their own accord.
"I like a continuity within each exhibition, and it needs to be interesting to someone," she says. "Basically, it needs to be clean, interesting, preferably not seen anywhere else in town and ready to hang on a wall."
What Perottos enjoys most is the actual hanging of the pieces.
"I used to rearrange my bedroom and living room once a week when I was a kid," she says. "I really feel like it's my creative outlet. I absolutely love to figure out where to place the pieces according to light, color, space, furniture, flow, even mood."
Rushing's favorite part of curating also happens prior to shows – when pieces are being delivered and she's seeing them for the first time.
"It's always so fun to work at Rx on drop off dates. It's like opening presents all day," she says. "The anticipation and excitement involved with the drop-off date because (it's) when you know for sure that the show will come together."
To view more of photographer Terah Wilson's work, go to www.timelessfotographie.com/blog/about