Artful Arrivals
Waiting for a flight? Take in a gallery show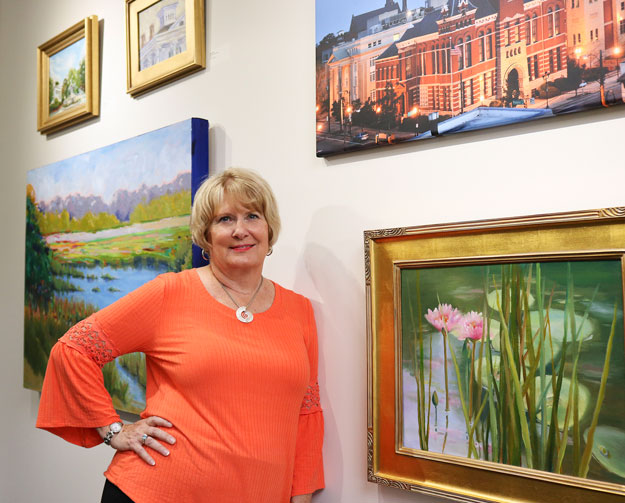 The Wilmington International Airport has partnered with The Arts Council of Wilmington and New Hanover County to showcase varying arts in Southeastern North Carolina. Just behind the terminal's entrance rests a gallery that displays the works local artists have to offer.
The opening reception was held in December, and the gallery continues to update to greet passengers flying in and out of the Port City.
Artists in the first exhibit, called Flight, included works by Judy Hintz Cox, Kristen Crouch, Elizabeth Darrow, Dumay Gorham, Janette Hopper, Joan McLoughlin, Randy McNamara, Sean Ruttkay, and Michael Van Hout.
"We have been thrilled by the reception. Local artists are grateful for the exposure, the airport is excited about activating what had been dormant space, and travelers say they appreciate learning more about the fine arts on offer in Wilmington," says Rhonda Bellamy, executive director of the arts council.
But, why an airport art gallery? The answer is simple: It's popular.
"After several discussions with ILM officials, we knew it was an idea whose time had arrived," Bellamy says. "One of the arts council's core functions is to showcase the region as an arts destination. The ILM Gallery allows us to curate arts experiences for the 818,000 passengers flying in and out of the airport each year."
And though a recent addition for ILM, it's not an entirely new idea. Airports around the world have been incorporating galleries at their facilities, Bellamy points out. It also helps foster a larger sense of "place" for those flying in and flying out of a region.
Haneda Airport in Tokyo, for example, featured human-shaped plastic balloons that floated effortlessly in the air as a public art installation inside its concourse. And London's Heathrow Airport used its T5 Gallery (in its Terminal 5) to exhibit British art during the 2012 Olympic Games. The list could go on and on.
"I moved here eleven years ago enticed by the beauty of the area and the friendliness of its residents. I immediately sought out artists in my neighborhood and in galleries. It was a vibrant arts scene as it is now," says Chris Bloom (above), one of the artists whose pieces was included in the ILM Gallery's spring installation.
At the moment, the exhibition on display is LOCAL.
LOCAL features paintings and photography that Bellamy says are meant to create a distinct sense of place. Bloom's piece reflects the area's watery habitats.
"I love to paint outdoor landscapes, called plein air painting and have participated in many Paint Outs," she says. "I painted at the Azalea Festival in the gardens and Paint Out Wilmington, the week of May 1."
Bellamy says she and the council are hopeful that this level of gallery exposure for local artists will stimulate their sales. And, providing a greater awareness about the artists who live and breathe within Wilmington will, perhaps, create a greater sense of appreciation for artists in the area, Bellamy adds.
Right now, the gallery is set to change pieces quarterly. The next exhibit scheduled is B-40, which will be open to artists under forty years of age from counties that abut Interstate 40. The exhibit is slated to be on display May 19-August 18.
To view more of photographer Terah Wilson's work, go to www.terahwilson.com.