Art in Motion
Susan Sims-Pritts becomes Brunswick Arts Council's first executive director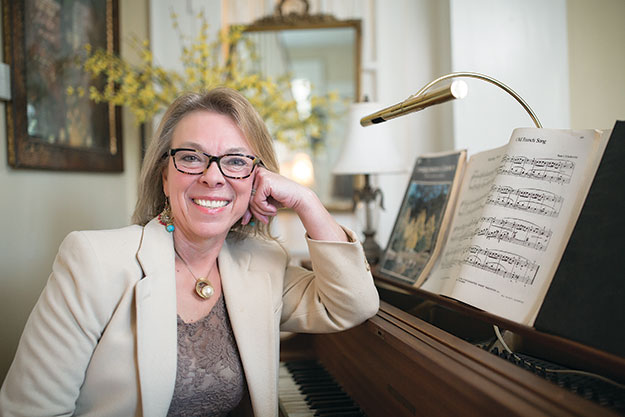 Barely three months into her job as the first executive director of the Brunswick Arts Council, SUSAN SIMS-PRITTS has been researching and assessing the county's arts "inventory" and trying to find ways to better support the arts in the county.
Moreover, she's generating ideas about how to meet the arts council's mission, which is "to inspire and promote appreciation, education, participation, and support for a broad range of arts and cultural interests for the benefit of Brunswick County artists and arts-related organizations, students and the community at large."
The ideas have come so quickly she needs to jot them down to keep track of them and organize them into a plan of action.
Brunswick County's population has grown rapidly in the past ten years, and predictors indicate that trend will continue. The Brunswick Arts Council (brunswickartscouncil.org) decided it needs to keep pace with this growth and increase accessibility to the arts by hiring someone to shepherd the organization to its next phase.
"I've learned that many people don't know about the Brunswick Arts Council, or if they do, have thought it was only for artists," says Sims-Pritts, whose role is now part time. "My mission is to change that and to develop a new and ever-growing membership and donor base to support art and outreach programs to our community."
She adds that membership is open to everyone, and several affordable options are available.
Sims-Pritts has lived in Wilmington since 1980 – in a home built the same year her father was born, 1915. But, for the past five years, she has split her time between there and a home in Supply with her husband of two years.
She's been involved in local arts herself and has begun to meet with residents and community leaders to determine existing arts resources and plan how to enhance them. She's on the lookout for collaborative opportunities, too. She hopes to increase access to the arts to seemingly underrepresented groups, including children, ethnically diverse populations, seniors, and those living in rural parts of the county.
Her research indicates population density in the county is highest along the Cape Fear and Brunswick rivers and along the coast, while 40 percent of the county lives in rural areas, she says. Some of the challenges reaching those pockets are the areas covered and transportation.
She points out there are many benefits of having a robust arts program. For instance, studies show students perform better academically if they have quality arts education. Students can learn about history, Sims-Pritts says, by writing a period play. The arts "create such a wealth of experience," she adds.
And up to 40 percent of tourism spending in Brunswick County came from arts-related initiatives in 2015, according to state tourism officials.
Organizationally, the arts council is overseen by a board of directors led by President Gary Halberstadt. There are five divisions: literary arts, grants and development, performing arts, student arts education, visual arts, and multicultural programs, with each division having its own president.
Membership is made up of residents, businesses, and artists, as well as members of Associated Artists of Southport, Oak Island Art Guild, Waterway Art Association, and St. James Artisans. In the past seven years, the organization has provided $700,000 in funding for the arts.
Another idea Sims-Pitts is considering revolves around the large community of writers in the county and how to better help them. Ideally, they would be included in a directory of artists she would like to see created and used as a means to work with artists from various mediums. And, she envisions an art and farm tour or a homegrown event for calling attention to artists' works. She looks to other communities that have initiated successful endeavors such as this for – yes, more ideas.
Sims-Pritts had held numerous paid and unpaid positions in the past, several related to the arts.
When her husband, a family physician, decided to retire in 2016, she recalls, "I was like, we'll see how this goes."
He, like her, loves to work and soon went to work for a local health clinic. And then, she saw the job announcement for the arts council.
"Everything in my life has led me to this point," she says.
To view more of photographer Chris Brehmer's work, go to chrisbrehmerphotography.com
Take 5 With Susan Sims-Pritts
What's first on your to-do list for the new role?
"No. 1 priority is a collage of increasing funding, partnerships, and programs to meet the needs of a growing and diverse population; focusing on donor development; and 4×4 Mini Masterpiece Gala (in) May. Brunswick Arts Council has supported a rich variety of artists and cultural events in Brunswick County for thirty-six years. It's time to publicize the significant economic benefit of the arts and grow with the county."
What piece of art or performance has really stuck with you that you've seen?
"The Russian Ballet performed Swan Lake in Birmingham when I was eleven – the first professional production I'd seen. It was magical! My parents were teachers who knew the arts enhance learning across all subjects – similar to 'arts-infused curriculum' in Brunswick County Schools – and exposed us to as much as they could afford."
How would you describe Brunswick County's growing arts scene?
"Amazing! We are fortunate to have a wide variety of visual and performing artists and events, over 1,269 creative jobs and seventy-three categories of creative industries throughout the county."
What art do you personally pursue?
"I'm a vocalist and a closet writer. (I) toured fifteen years part time with an Anglican acapella ensemble. I love the collaboration and complexity of choral music – Mozart to modern. Writing is my passion. In high school, I won poetry awards, wrote short stories, and dreamt of a book – who doesn't? I've been encouraged to publish and have a partial manuscript in my closet."
How can artists better promote themselves to the community?
"Take advantage of listing in our free online calendar of events and become a member to support all artists, programs, and advocacy. Also, BCC (Brunswick Community College) and Small Business Center offer marketing classes and coaching. We're exploring other possibilities to meet the need."