Art and Advocacy
Kelly Rae Williams' work tackles art and community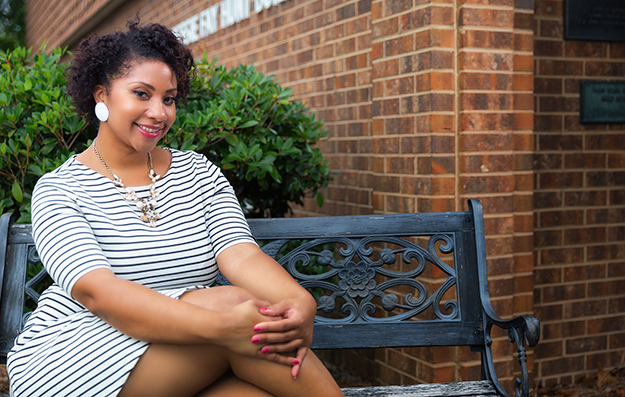 Advocating for racial and gender equality is not just a job for KELLY RAE WILLIAMS. It's a passion that infiltrates her poetry and her life's work.
Since returning to Wilmington with her boyfriend, Eric Thompson, in late 2013, Williams has made her mark on the Port City's community outreach and literary arts.
As community outreach coordinator at the YWCA, Williams manages four programs: New Choices Professional Development Program, a financial assistance program for single mothers; Grandparents Support Network, a support group for grandparents who care for their grandchildren full time; What's Wrong With Different, a cultural heritage program for third-graders; and Girls Circle, a girl empowerment program focused on body image, self-esteem, and confidence.
She also plans two community outreach events with the YWCA, Stand Against Racism in April and Week Without Violence in October.
After teaching poetry and working in various aspects of nonprofit organizations, Williams feels drawn to community outreach work in which she has a direct impact on others.
"I feel like I am myself fully when I am helping others. When I am not, I don't feel whole and complete," she says. "I think I was meant to work one-on-one with people, helping them and giving back."
Originally from Indiana, Williams attended University of North Wilmington after high school, but she says she wasn't focused or ready to be in college at the time. After a brief stint in the theater program at University of North Carolina at Greensboro, she later enrolled in the creative writing program at N.C. A&T State University.
At A&T, she took a spoken word poetry class with Anjail Ahmad, which was a seminal experience for her. Ahmad recognized Williams' talent and encouraged her to pursue a career in writing and spoken word performance. As an older undergrad student at A&T, Williams thrived, growing as a writer and a person.
With the encouragement of Ahmad, Williams and two other writing students started Poet.she Female Performing Arts, a 501(c)(3) nonprofit poetry organization based in Greensboro. Through the nonprofit, Williams served as a teaching artist teaching poetry at seven elementary and middle schools in the Guilford County school system. Additionally, Poet.she hosted open mic and poetry slam events throughout the greater Triad area.
In late 2013, after serving as founder and director of Poet.she for three-and-a-half years, Williams lost funding for her teaching artist position. Around the same time, Thompson got a job as a computer programmer in Wilmington, and the couple relocated to the area.
As a spoken word artist and poet, supporting the local art scene is vital to Williams. She and Thompson host a monthly artist event series called "Open Mics Open Minds." Every second Friday of the month, they invite forty artists to their downtown loft in the Brooklyn building on North Fourth Street. At each event, twelve artists of various genres, including painters, dancers, musicians, and photographers, share their work before an audience. Following the open mic, the audience participates in a share circle, offering feedback about the art and discussing how it inspired them.
Open Mics Open Minds was Thompson's idea, according to Williams.
"He wanted to find commonality among artists and bring artists of different backgrounds and genres together," she explains. "It's all about collaborative creativity."
Williams is finishing up her MFA in creative writing in the low-residency program at Queens University. In 2010, she published her first chapbook, Real Girls Have Real Problems. She is currently writing her second chapbook, with the working title Twisted Sundials, which deals with issues surrounding mental and emotional health. Additionally, she is writing a book called Black and Queer in the South featuring the interviews of seven Southern women.
Three of Williams' poems are part of the Cameron Art Museum's current ekphrastic exhibit, She tells a story. On display at the CAM through September 11, She tells a story connects the work of fifty-two visual artists from the museum's permanent collection with the writing of fourteen local women writers. The CAM presented the visual art to the group of writers and asked them to create a piece of writing that was in some way inspired by the exhibit. Williams says she had a visceral reaction to three of the pieces and felt emotionally connected to the work.
Williams, who considers herself a feminist writer, sees a strong connection between her community advocacy work and her writing. She is inspired by writers such as Mahogany Browne and Claudia Rankine who don't shy away from infusing their writing with political topics.
"I'm passionate about gender and race issues," Williams says. "My perspective about gender and equality is reflective in my community work and in my writing. It reflects what I stand for as a writer."
To view more of photographer Chris Brehmer's work, go to www.chrisbrehmerphotography.com