Around the World in 19 Hundred Ways
Behind the scenes at Cameo 19 Hundred's tapas night.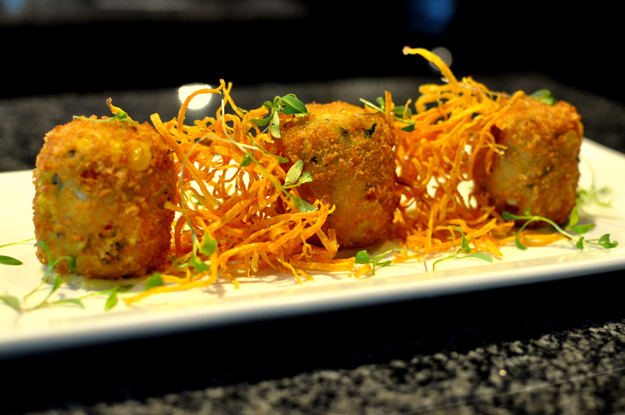 The best thing about working in the kitchen at Cameo 19 Hundred in Lumina Station is the freedom, said chef Kirsten Mitchell. The small plates restaurant isn't restricted to a certain style or cuisine. When you add in the unique atmosphere of modern flourishes and traditional details, the occasional club-like scene, and the attitude of owner Brian Park, the result is a menu of flexibility and indulgence.
"It gives me the chance to do what I want, to go where I want with the menu and with presentations," Mitchell said. "Our food can be fun, and whimsical."
The menu has taken an even more adventurous direction with a special that ends in April when Mitchell will unveil a spring menu for Cameo. The Around the World in 80 Days is offered on Wednesday nights in the form of an inexpensive (under $10) dish or two representing a selected country's cuisine. Vietnam, for example, featured Asian meatballs and bubble tea. Sweden was expressed in the form of pickled fish and sausage. Around the World will take diners to Italy, Lebanon, India and Jamaica, as well. Participants get a "passport" for the promotion; those who get 10 out of 12 stamps will be rewarded with special chef's dinner.
Inspiration for this ever-changing menu comes from Mitchell's own restaurant research and her family.
"I get a menu from everywhere I go," she said. "I also love to plan pretend vacations to places where I'd love to eat."
Her father, who is trained in classic French cuisine techniques is a chef in Louisiana.
"Cooking was just natural to me," she said. "I started peeling carrots and moved on from there."
Her technique takes after her father's classic style but adds bolder flavors – from spicy to tart – from her own experiences. Her love of seafood and Caribbean flavors comes from time spent in the Bahamas.
Her style continues to develop at Cameo. "I've been experimenting with wild game," she said. Recent menus have included wild boar, antelope and kangaroo for diners who want something that they don't often see locally. The kangaroo, she said, was marinated in Cheerwine and served with winter squash and a Cheerwine barbecue.
"I love to experiment and learn as I go," she said.
For those who like more familiar fare, check out the burger sliders and mac-and-cheese, which includes three cheeses, andouille sausage and green chilies. Sophie's Salad (named after Mitchell's daughter) is a of mix of red beans, gouda, egg, avocado and French dressing. One of Mitchell's favorite dishes is the fish of the day, simply prepared with creamed leeks and a poached tomato.