Aria Ascending
Isabella Stollenmaier set to break through in opera world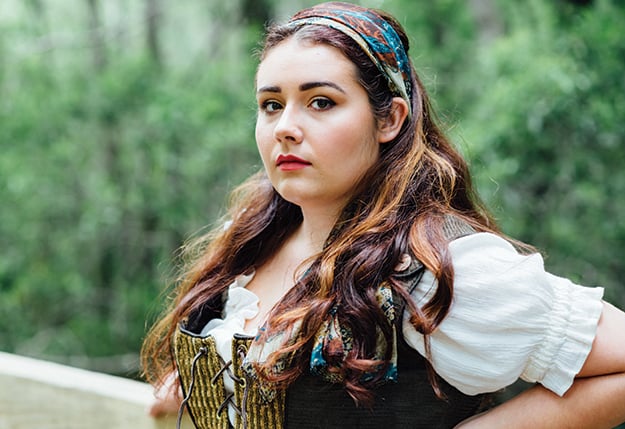 "YOU DON'T REALIZE how many people in Wilmington like opera until you offer it," says ISABELLA "BELLA" STOLLENMAIER, a mezzo-soprano, rising senior at the University of North Carolina Wilmington, and opera star.
But she didn't even know she loved opera until her freshman year in college.
Stollenmaier became friends with two girls in her dorm who were music majors. They thought she had a good voice and told her she should consider majoring in voice. At the time, she was majoring in anthropology.
"I decided to audition. Dr. Joe Hickman (UNCW's director of choral activities) made me fall in love with classical choral music. That led me to look into other forms of classical music," Bella Stollenmaier recalls.
Now, this young woman has her sights set on New York and beyond. This summer, Stollenmaier performs the role of the witch in Humperdinck's Hansel and Gretel with the Manhattan Opera Studio in July and August.
As part of being selected for the summer program, Stollenmaier gets the chance to attend masterclasses and have weekly coaching sessions as well as perform in the production at The National Opera Center.
"I decided in the fall that I wanted to see what I could be a part of – young artist companies. I had several offers (in Chicago and New York), but this one gave me the most exposure and learning opportunity," she says. "It also gave me a chance to travel to New York four times in December and January." Though it's only been a few years since Stollenmaier dove into opera, she already has been racking up plenty of experience – and stage time.
Recipient of Opera Wilmington's scholarship for the past two years, Stollenmaier was in the chorus of the company's inaugural production of The Merry Widow in 2014 and has gone on to garner roles in other local and national productions.
"When I auditioned for Rigoletto and got an actual role, I was floored," Stollenmaier says. "Nancy King (UNCW associate professor and Opera Wilmington's artistic director) completely built my voice in the last three years. I had no vocal training."
Now as a music major with a concentration in vocal performance, she is on track to graduate in May 2017.
In addition to her professional debut as Maddalena in Rigoletto, Stollenmaier has also performed the roles of Anne Page in UNCW Opera Workshop's production of The Merry Wives of Windsor, the Second Lady in a Wilmington Symphony and UNCW Opera Outreach Program (WOOP) collaborative production of Mozart's The Magic Flute, and the roles of Cinderella and Dorabella for WOOP.
Recent appearances include performing as alto soloist for UNCW Chamber and Concert choirs' performance of Haydn's The Creation, Opera Wilmington events such as Amore! Songs of Love and Drunken Moments, and the roles of Iolanthe and Edith in a revue of Gilbert and Sullivan's works presented at Thalian Hall.
In February 2015, Stollenmaier placed first in her division at the National Association of Teachers of Singing competition in Winston-Salem and later competed at the regional level in Maryland.
Pretty heady accomplishments for the twenty-one-year-old North Carolina woman. After spending her very early years in New Jersey, Stollenmaier moved with her family to Boone when she was in fifth grade. She returns there to visit her parents, grandparents, and younger brothers, ages six and nine, and they travel to Wilmington to support her events. She is teaching her parents about opera as she learns it.
Stollenmaier's rise has offered other travel opportunities. As the Wilmington Opera's scholarship recipient, the company financed much of her trip to St. Pölten in Austria.
"We performed in a conference with famous choral conductors and singers," Stollenmaier says. "It's life-changing. Dr. Hickman takes about ten students each year. I was also asked to fill in for one of the singers under one of the best choral conductors in Europe, Erwin Ortner – intimidating but life-changing."
New York and Austria seem to be a long way from the amusement park in Boone where she was a professional clogger and sang in a kids show.
"I competed at the national level in middle school in clogging. Nancy calls me her clogging opera star," Stollenmaier jokes. Stollenmaier plans on going directly to graduate school after UNCW, hopefully in New York, Chicago, or Europe, she says.
"I love big cities, and I love to travel, so the more I travel the better," Stollenmaier says with a smile. "It seems like everything's coming together. I'm happy that I found it – I can't imagine doing anything else."
To view more of photographer Erik Maasch's work, visit websta.me/n/emaasch.