Ardent Blunders
Perils of online dating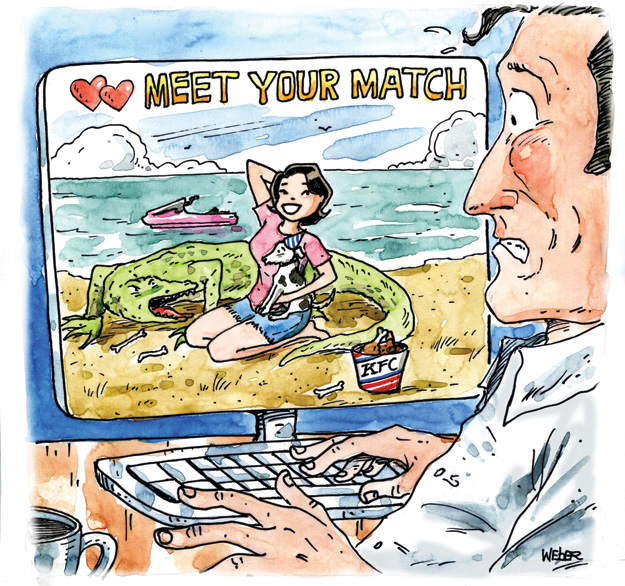 In honor of Valentine's Day, I devote this column to the single woman and her online quest for love.
Match.com and other online dating sites provide suggestions for how singles can best make themselves desirable to romantic prospects: Smile in your profile pictures. Reveal your special interests. Describe your perfect first date. That kind of thing.
However, what these sites fail to provide is a list of specific DON'Ts.
While in a perfect world, the below list (culled from actual profiles) would not be necessary, from my perusal of various online dating platforms, it is clear that many women will benefit from a careful read.
DON'T describe yourself as "classy." Generally, the same rule that applies to restaurants and shops also applies to people: When you self-describe as "classy," you're usually far from it.
DON'T announce that you're looking for a "drama-free" relationship. This screams, "I have a cast of crazy exes poised to resurface at any moment."
DON'T post a selfie taken in a public restroom mirror in which urinals are clearly visible in the background.
DON'T post a picture of yourself standing at the altar in your wedding dress exchanging vows with your now ex-husband.
DON'T post a picture of yourself in a red string bikini, cigarette dangling precariously from your lips, as you strike a glamour pose astride a wave runner on its trailer in the front yard of your mobile home.
DON'T post a picture of yourself eating chicken wings, ribs, or nachos. Sure, this will whet men's appetites, just not in the way you intend.
DON'T post photos of yourself firing high-caliber weaponry. What message are you trying to send here? Psycho ex-boyfriends? Are you preparing for a post-apocalyptic scenario?
DON'T post pictures of yourself in Day of the Dead makeup, dressed as a flesh-eating zombie, or wearing dental prosthetics as part of a crystal meth addict Halloween costume. These will only serve to confuse lower IQ romantic prospects, alienate men looking for a woman with good judgment, and attract men later featured on Cold Case Files.
DON'T post black-and-white photos of yourself posed with half-a-dozen disembodied mannequin heads. Despite the undergraduate artsy appeal and the shock-your-parents surrealist charm, these pictures are just plain weird and, therefore, counterproductive to coupling efforts.
And, finally, DON'T post a picture of yourself dressed as nun. There are probably men who are into that, but you'll need to join a specialty site for that kind of action.
To conclude, let it be clear that I am aware that men need their own list of online dating DON'Ts. However, as that is not my area of expertise, I will leave such a list to another writer. My single female friends inform me that the list would be quite long and best published in book form, potentially in multiple volumes.
Dylan Patterson is a writer and filmmaker who teaches English at Cape Fear Community College.
To view more of artist Mark Weber's illustration's, go to www.markweberart.blogspot.com