April Spotlight
Spotlights on area women making news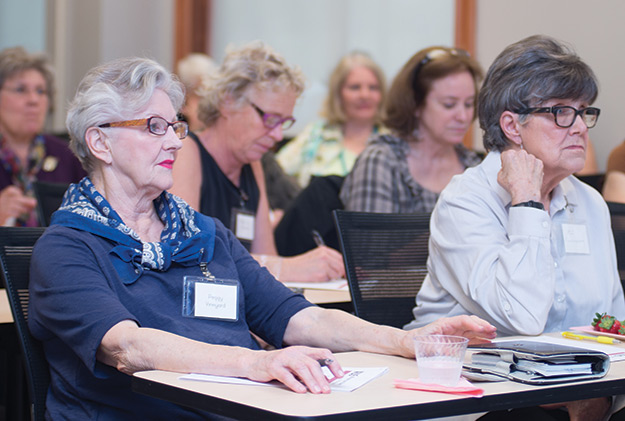 New women's art organization forms
The WOMEN'S ART GUILD OF WILMINGTON launched in March. Zero Hartline is the executive director of the organization, which held its first meeting March 16, and Shanda West is the president of the group.
"I've done extensive research and learned there are many similar organizations across the US. I've talked to directors of those organizations and learned they're all extraordinarily successful," Hartline says.
It is made up solely of female artists, and it accepts new members through a juried process. The guild plans to sponsor small and large art shows and work with the University of North Carolina Wilmington and Cape Fear Community College to provide art opportunities for promising students.
Hartline also says the guild wants to work closely with the Wilmington Arts Council, the Cameron Art Museum, local galleries, and arts organizations. The group is already planning its first show, which will be announced in early April.
– Hunter Joyner

Montwieler to lead UNCW center
Katherine Montwieler, chair of University of North Carolina Wilmington's Department of English, will enter a new role July 1– director of the school's Women's Studies and Resource Center. The center promotes gender equality and the study of gender and sexuality as an academic pursuit at the university.
Montwieler (left) is a scholar of nineteenth-century literature with a focus in the construction of gender and feminist theory. She has served on the Honors Council, the Women's Studies and Resource Center Board of Directors, the Teacher Education Council, and the University College Advisory Committee. Her work at the center will include supporting the Women and Gender Studies Department, overseeing its minor and post-baccalaureate certificate program.
– Naomi Spicer
Smart Start names children's champions
Smart Start of New Hanover County recently picked Mary Ellen Laughnan and Patricia Waddell (left) as its 2016 Children's Champions.
The award highlights people who have provided exceptional service to young children, birth through age five, and/or their families.
Laughnan has worked for eleven years as early childhood educator at the Children's Museum of Wilmington. "She developed and currently leads programs such as Baby Play, the Kids Cooking Club, and Story Cooks with well over 1,000 participants a year," officials say.
Waddell has been an educator for the past forty-two years in New Hanover County and is the principal at Howe Pre-K Center. "We get the opportunity to introduce children to school and the beginning of their educational journey," she says.
District Attorney Ben David also received the group's Starfish Public Advocacy Award, and other honorees were Lorraine Collura, William Hatch, Briana Morgan, and Kristen Russo.
-Vicky Janowski

Medical Library Association honors Flake
NHRMC and SEAHEC Medical Library Director Donna Flake (left) will receive a national award.
The Medical Library Association is giving Flake the 2016 Lois Ann Colaianni Award for Excellence and Achievement in Hospital Librarianship.
She also was chosen as one of four fellows selected this year.
"I hope these awards help further the mission of our hospital library in providing the best evidence-based information to the medical professionals of our region," Flake says.
The award is "for contributions to excellence and achievement in the health information profession," officials say.
Flake, who has been a medical librarian for thirty-nine years, heads up the SEAHEC Robert M. Fales Health Sciences Library at NHRMC, the largest health sciences library in southeastern North Carolina. She will receive the association's award May 17 in Toronto.
-Vicky Janowski