April Spotlight
Area newsmakers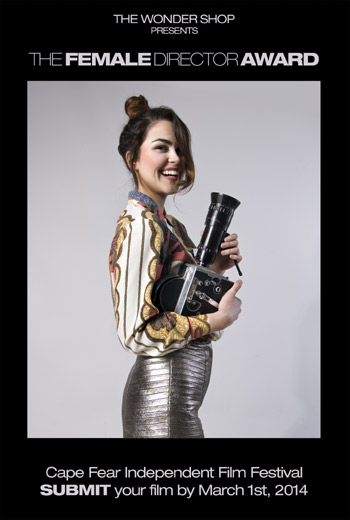 New Award for Female Film Maker
The Cape Fear Independent Film Festival, May 1-4, will add a Best Female Director Award to this year's Wilmington Film Awards.
KAREN LABBE (above), a previous festival winner in the Best Local Film for her short When Nicole Meets Oliver, heads up the award committee in the new category.
"It's no secret that men are the majority film. I know there are women out there working hard, too, and I wanted to direct the spotlight on them and applause their tenacity, audaciousness, and creativity," Labbe says. "It interests me to see the contrast between a man and a woman's perspective and the way they explore different subjects and point of views."
The Wonder Shop is sponsoring the new award.
-Bridgette Wagner
Justice Elected NCGOP Vice Chairwoman
The North Carolina Republican Executive Committee recently elected former state Rep. CAROLYN JUSTICE as the state GOP's vice chairwoman.
Justice, a Hampstead resident, represented House District 16 from 2003 to 2012. She previously served as the chairwoman of the House's environment committee and the appropriations subcommittee on natural and economic resources.
The vice chairwoman position was most recently held by Joyce Krawiec, who left in January after being appointed to fill a state senator seat.
-Tom Leary
Seed Lending Project Comes to Fruition
People can now check out herbs and flower seeds along with their books at the library.
In February, the New Hanover County Public Library and New Hanover County Arboretum launched the Seed Lending Library. Through it, residents can check out seeds from the downtown library on Chestnut Street under the condition that they return one seed to the arboretum at the end of the growing season.
Native plants such as the Native Columbine and New Jersey tea are available.
A draw to the Seed Lending project is that people can receive seeds that are not genetically modified, allowing for more organic lifestyles, librarian Justine Roach says.
Roach hopes the initiative will encourage residents to grow their own food and learn more about the native plant's role in the local eco-system.
-Erica Suarez-Pinket
Stanley Leads Dosher Group
The Dosher Memorial Hospital Foundation named LYNDA STANLEY its new president.
Stanley has worked at the Southport hospital for twenty-eight years, holding key positions including director of laboratory services and senior vice president/chief operating officer.
In her new position, Stanley is at the helm of the foundation's philanthropic outreach.
"Serving as the foundation's president will allow me to help secure and enhance health care for our community by building and maintaining relationships so the community will understand the need to support Dosher," Stanley says.
Tim Siemers, president and CEO of Dosher Memorial, says the foundation will play a major role in the coming years to grow the hospital's services and outreach in Brunswick County.
– Erica Suarez-Pinket